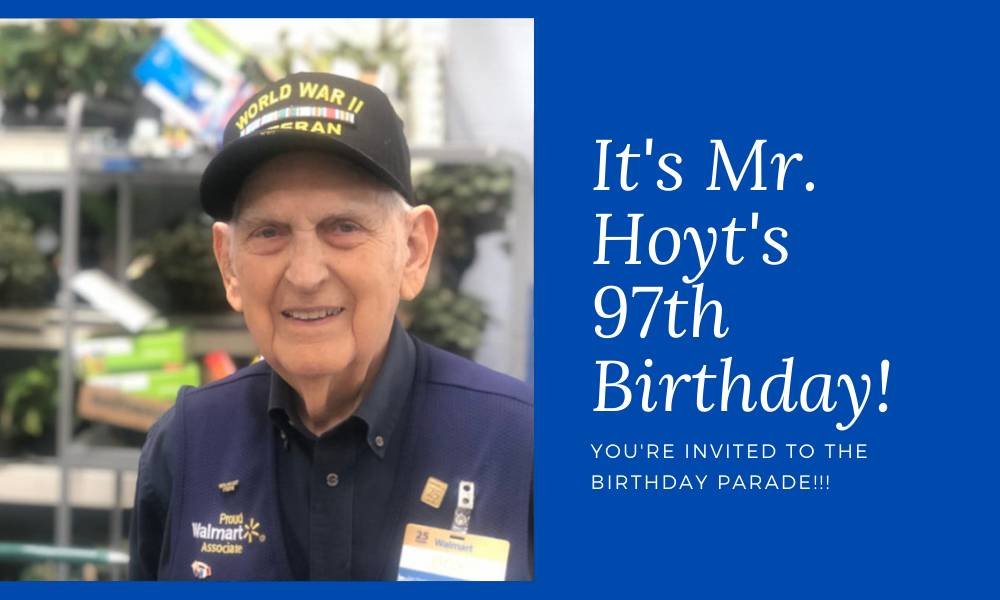 Mr. Hoyt Williams will turn 97 years old on Monday,  November 9th. Due to a recent illness and the restrictions caused by COVID-19 pandemic his family and friends will be hosting a drive by parade for Mr. Hoyt. The parade will be held in front of his home at 121 Sunset Lane in Trion on Sunday, November 8th at 2:00 p.m.


Participants are asked to gather in the Triangle Shopping Center parking lot in Trion by 1:45 p.m. to get in line.
The family will also have a place to drop off birthday cards for Mr. Hoyt. Participants are encouraged to make happy birthday signs and decorate their vehicles.
---
On Novemebr 9, 1923 Hoyt Williams was born in Trion, Georgia. Mr. Hoyt says the secret to living a long life is to work every day. While he doesn't recall his exact age at the time he began his first job, he knows as soon as he was able to work he went to work as a paper route boy.
He graduated Trion High School in 1942, and joined the Army to serve in WWII.
Mr. Hoyt served as an Army engineer in both the European and South Pacific Campaigns of WW II, serving in both campaigns is rare. He arrived in Normandy D-Day+18. Within three months, the northern part of France was liberated and soldiers were preparing to enter Germany.
When he returned to the States, he wasn't quite ready for civilian life yet and he caught the next troop train to Seattle en route for the Philippines, where he remained until Japan surrendered in September of 1945.
When he returned home from the War, for good, Mr. Hoyt took over his Father's supermarket in Trion in 1948 and ran the store for the next forty years.
After working 40 years at the supermarket Mr. Hoyt did attempt retiring, but retirement proved to be boring, "I was tired of mowing the lawn… it was time for me go back to work, Wal-Mart said they could put me to work even though I was old and they did," Williams said. Mr. Hoyt has been working full-time for Wal-Mart ever since.
Mr. Hoyt also continued his service to the community by being a member of the original water board for the Chattooga County District, helping all of the County have access to water.
Mr. Hoyt served on the Trion School Board for two terms as chairman, the Trion City Council for 16 years before being elected Mayor of Trion.
Trion was built around the hard work and commitment of men like Hoyt Williams, Trion is a better place today and Chattooga County is a better place because of men from the greatest generation.