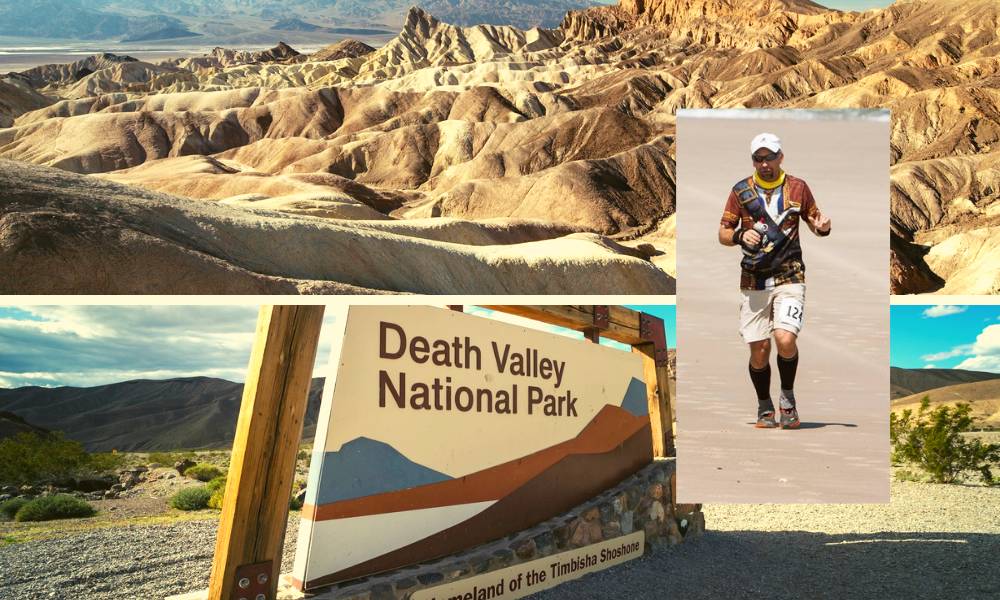 "The World's Toughest Footrace", the Badwater 135 mile ultramarathon, looks to be even more difficult this year due to the extreme temperatures out west. How extreme?  130 degrees air temp, 180 degrees asphalt temperature, extreme.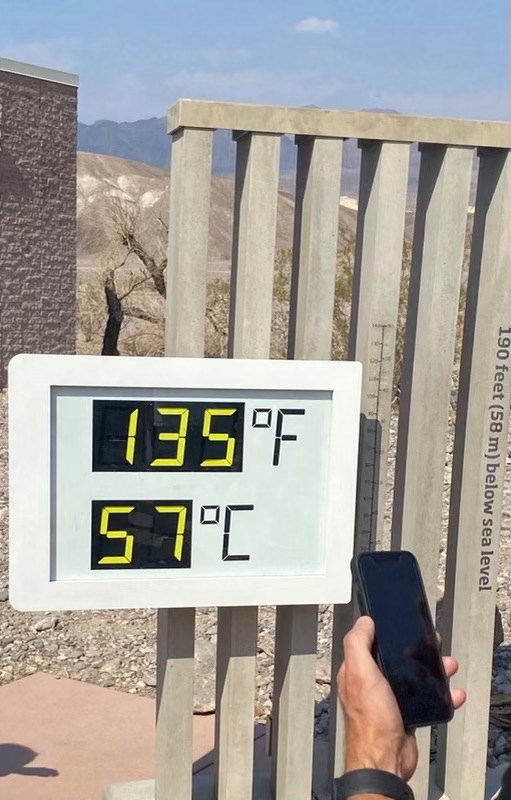 Saturday, Chattooga resident Shane Tucker and his crew will head out west in the quest of conquering "the world's toughest footrace".
Tucker's crew consists of Lance and Kendra Stallings, Guy Chambless, and Brannon Espy of Advance Rehab. Advance Rehab is furnishing many supplies for the race. The crew will all be living in a rented mini-van for 48 hours supplying Tucker with ice, food, water and other supplies along the entire 135 mile. The crew will take turns running with Tucker as pacers for the last 90ish miles of the race.
The race begins Monday in Death Valley National Park. 100 of the best athletes in the world will descend to Badwater to begin the 135 ultra-marathon ascending to Whitney Portal while climbing a total of 14,600. The race will be in Death Valley National Park from the evening of 7/19 until the early morning hours on 7/21.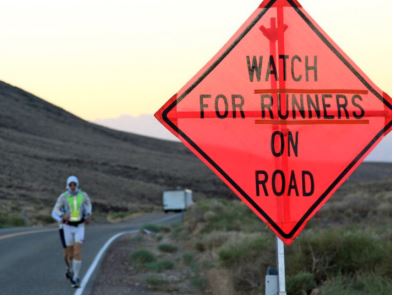 Tucker says he feels ready to begin and knows he will have to give it his all, "we can all work harder but I have put in a solid 12-week block for this thing. I'm not trying to get all weird, but I am looking at this as more of a spiritual journey than a physical one. I have run over 350 footraces and I have truly given my all in only four of them. I will have to do that in this one , and I think I am ready to."
To prepare for the race Tucker has put in around 600 miles training over the past 12 weeks, "some people have seen me running up to Cloudland from Menlo. I've also spent around 35 hours, no lie, in the sauna at the Rome Athletic Clube which stays around 180-200 degrees."
For locals wanting to cheer on the recently retired educator there will be lots of ways to keep up with the race. Each runner will be wearing tracking devices which will show their location for the entirety of the event. Tucker will be running in the first wave which starts at 8:00 PM Pacific Time (11:00 PM Eastern) on Monday the 19th and the final cutoff is 48 hours later on Wednesday.
The tracking will go live on the Badwater 135 website this weekend.
Shane Tucker is a retired teacher and ultra-runner. He is a life-long resident of Chattooga County, Georgia and a member of Alpine Community Church. He enjoys hiking/running with Cookie, the rescued Basset-Lab.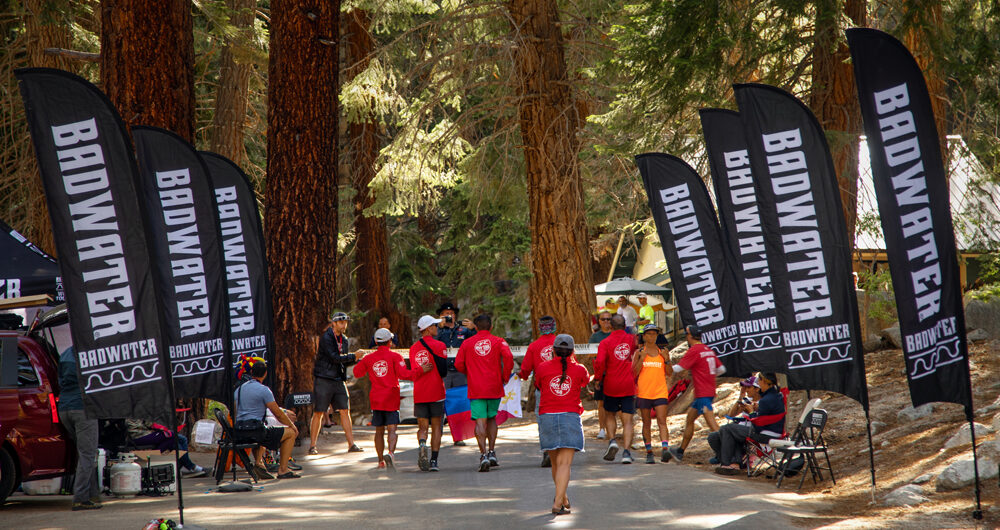 Official Press Release:
THE WORLD'S TOUGHEST FOOT RACE CELEBRATES 44th ANNIVERSARY OF ICONIC ROUTE FROM DEATH VALLEY NATIONAL PARK TO MOUNT WHITNEY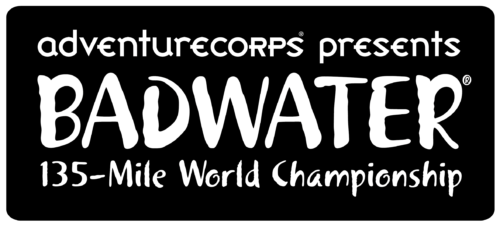 On July 19-21, 2021, AdventureCORPS will present its legendary BADWATER® 135 Ultramarathon, the 135-Mile World Championship. Now in its 44th year – with the 2020 race canceled last-minute due to the pandemic – this world-renowned event pits up to 100 of the world's toughest athletes against one another and the elements in a crucible like no other. From below sea level in scorching temperatures to altitudes as high as 8,360 feet (2548m), endurance athletes from 17 countries and 29 American states plus the Navajo Nation will face off in a grueling 135-mile trek non-stop from Death Valley to Mt. Whitney, CA. Widely recognized as "the world's toughest foot race," the invitational Badwater 135 is the most demanding and extreme running race on the planet.
The start line is at Badwater Basin, Death Valley, which marks the lowest elevation in North America at 280' (85m) below sea level. The race finishes at Whitney Portal at 8,300' (2530m). The course covers three mountain ranges for a total of 14,600' (4450m) of cumulative vertical ascent and 6,100' (1859m) of cumulative descent. Whitney Portal is the trailhead to the Mt. Whitney summit, the highest point in the contiguous United States. Competitors travel through places with names like Mushroom Rock, Furnace Creek, Salt Creek, Devil's Cornfield, Devil's Golf Course, Stovepipe Wells, Panamint Springs, Darwin, Keeler, Alabama Hills, and Lone Pine.
The Badwater 135 Ultramarathon is held under permits from – and in close collaboration with – Death Valley National Park, California Department of Transportation, U.S. Forest Service, and the County of Inyo.
AdventureCORPS – on behalf of all competitors and support crews – also gratefully acknowledges that these lands have been lived upon for at least 1000 years by native peoples, including the Timbisha Shoshone and the Lone Pine Paiute-Shoshone tribes who live on the race course today. We honor and share their deep reverence for these lands.
While runners began running the course in the 1970s, the race itself has been part of the fabric of life in Inyo County since 1987. A recent study indicated an annual economic impact of 1.2 million dollars, half of it spent in Death Valley National Park and surrounding gateway communities such as Lone Pine, CA. The race is supported by former U.S. Congressman Col. Paul Cook (Ret.) of California's 8th District, the Inyo County Board of Supervisors, the Lone Pine Chamber of Commerce, and a wide panorama of businesses and charities which are positively impacted.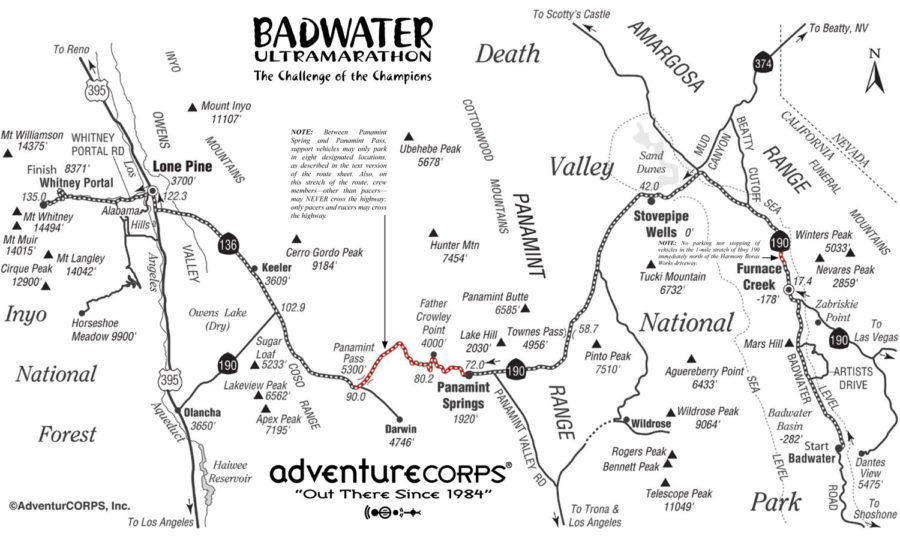 THE 2021 RACE FIELD
A true "challenge of the champions," the 2021 Badwater 135 features 38 Badwater veterans and 46 rookies: die hard "ultra-runners" who have the necessary running credentials to not only apply for, but be selected, to compete in the race.
Despite COVID-caused international travel restrictions which will keep at least 15 foreign runners from competing this year, the race will still boast an international field. The 84 athletes in the 2021 Badwater 135 represent seventeen countries: Armenia, Australia, Canada, Czech Republic, El Salvador, Germany, Italy, Mexico, Netherlands, Philippines, Portugal, Russia, Slovakia, Sweden, Ukraine, United Kingdom, and United States of America, along with the Navajo Nation. See the full roster here.
Twenty-nine different American states and territories are represented: Arizona, California, Colorado, District of Columbia, Florida, Georgia, Indiana, Kansas, Kentucky, Maryland, Massachusetts, Minnesota, Mississippi, Missouri, Montana, Nebraska, Nevada, New Jersey, New York, North Carolina, Ohio, Oklahoma, Oregon, Pennsylvania, South Carolina, Tennessee, Texas, Vermont, and West Virginia.
There are 24 women and 60 men. The youngest runners are Ryan Fecteau, 28, of Malden, MA and Mollie Melton Yonker, 38, of Winter Park, FL; both are rookies. The oldest female is Norma Roberts, 62, of Calgary, Alberta, Canada, a rookie entrant. The oldest male is Bob Becker, 76, of Fort Lauderdale, FL, a three-time finisher. The overall average age is 49. Full roster details, including links to personal website, charities, social media, race results, and more are available here.
COURSE RECORDS AND FINISHING TIMES:
Men's: Yoshihiko Ishikawa, 2019, Japan: 21:33:01.
Women's: Patrycja Bereznowska, 2019, Poland, 24:13:24.
For Age Group records and more info, click here.
It is expected that the winners of the 2021 Badwater 135 will finish in near record time for both men's and women's divisions. The average finishing time is approximately 40 hours, while the overall time limit is 48 hours. For those who finish in less than forty-eight hours, their reward is the coveted Badwater 135 belt buckle, referred to as "the Holy Grail of Ultra Running." There is no prize money.