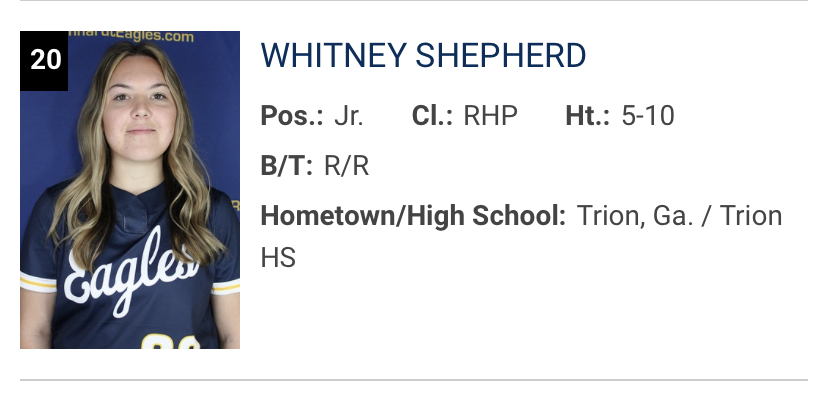 The Reinhardt softball team earned an automatic berth to the NAIA National Tournament after winning the 2023 AAC Regular-Season. The Eagles headed to Ashland, Oregon to compete against 3 other teams for the NAIA Opening Round. In the double-elimination bracket, third-seeded Reinhardt is set to play at host school Southern Oregon, along with Southeastern and Vanguard. The first game of the tournament was played on Monday, May 15th, between #3 Reinhardt and #2 Southeastern, where the Eagles ultimately took the game 6-4. Then on Tuesday afternoon, the Reinhardt Eagles matched up versus the Vanguard Lions and won 1-0 to move on to the Ashland Bracket Opening Round Championship which will be played the following day at 2pm EST. Reinhardt is the only team left in the bracket that has not been handed a loss. Since it is a double elimination tournament, the opposing team will have to successfully beat Reinhardt in back-to-back games to earn the right to move on to the 2023 NAIA Softball World Series in Columbus, GA.
Reinhardt 1, Vanguard 0
Both the Vanguard pitcher and Reinhardt's Whitney Shepherd had great pitching games as they each did not allow one single run in regulation. Finally in the bottom of 8th inning, Molly Stevens reached first base due to a walk and then later stole second base to sit in scoring position. Then with 2 outs, Taylor Wade hit a slow ball to the pitcher who overthrew the first baseman for an error. This allowed Wade to second base and Molly Stevens made her way to home plate for the winning run to take the 8-inning game 1-0.
Leaders:
 Team Comparison: 
Runs: 1-0 RU
Hits: 9-4 VU
Errors: 1-0 VU
 Up Next: The Reinhardt Eagles softball team will be moving on to the Ashland Bracket Opening Round Championship game versus the host team, Southern Oregon University, the following day May 17th at 2pm EST.

In addition to Shepherd, Lauren Woods from Trion also plays for Reinhardt