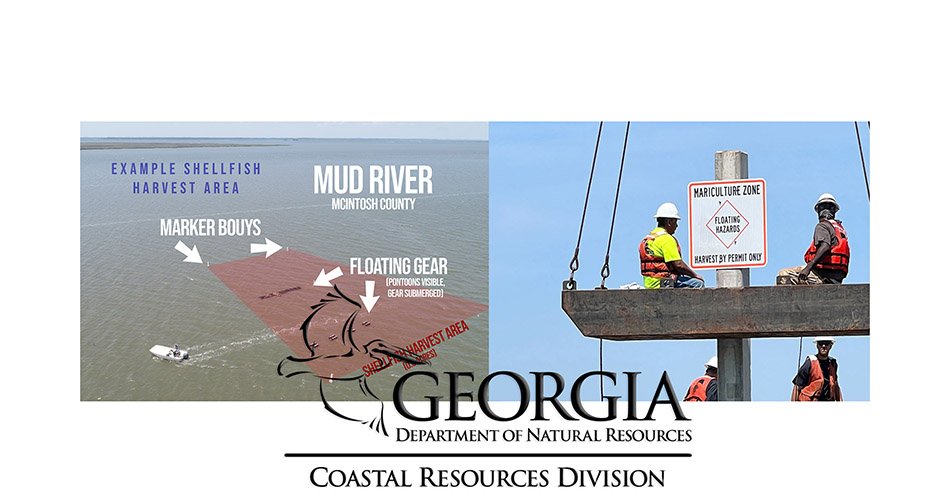 A new commercial shellfish harvest area on Bull River north of Pa Cooper Creek is now permitted and marked for operation in Chatham County.
The Georgia Department of Natural Resources' Coastal Resources Division (CRD) offered three shellfish harvest area leases to applicants Feb. 11, 2022, totaling an area of 22.5 acres on the northeast side of Bull River between Wilmington and Little Tybee islands. This newly permitted area will allow leaseholders to use floating gear tethered to the bottom of the estuary to grow oysters in a controlled environment.
The new Bull River harvest area is the second of its kind in Georgia after the passage of Georgia House Bill 501, which became law March 1, 2020. The new law allowed CRD to create a framework of policies to properly manage new opportunities–including the use of floating gear–for the growth and diversification of the state's shellfish industry. Floating gear has been successfully used in the shellfish industries in other states, and is new to Georgia after House Bill 501's passage.
The Bull River shellfish harvest area is bound by four concrete pilings installed April 28, 2022, after approval from the U.S. Coast Guard and U.S. Army Corps of Engineers.
The pilings are at:
31° 58' 17.237"N / 080° 55' 47.379"W (in 14 feet of water at mean low water)
31° 58' 12.020"N / 080° 55' 42.511"W (in 25 feet of water at mean low water)
31° 58' 00.737"N / 080° 55' 59.202"W (in 18 feet of water at mean low water)
31° 58' 05.744"N / 080° 56' 04.027"W (in 9 feet of water at mean low water)
The concrete pilings are marked with reflective 3-foot by 3-foot signs approved by the U.S. Coast Guard.
The U.S. Coast Guard sent a notice to mariners referencing the new pilings May 10, 2022, and the National Oceanic and Atmospheric Administration is slated to update navigational charts soon.
The pilings are intended to mark an area where permitted shellfish growers can use floating gear tethered to the bottom of the river. An example of a shellfish harvest area with floating gear is seen to the right (to right on desktop; above on mobile devices). Note, the area pictured is in Mud River, McIntosh County, and is not the Bull River location where pilings were recently installed. When authorized, similar strings of floating gear will be installed by new shellfish leaseholders in both the Bull River mariculture zone in Chatham County and the Mud River mariculture zone in McIntosh County. This floating gear may impede navigation within permitted shellfish harvest areas.
Georgia DNR reminds boaters to check their equipment, including running lights, on their vessels regularly. While GPS and other computerized navigation aids are helpful, they should not be used as the sole means of navigation.
For more information about changes to the Georgia shellfish industry and the Shellfish and Water Quality Unit within DNR's Coastal Resources Division, visit CoastalGaDNR.org/ShellfishLeasing.
You can also read more in the May edition of CRD's quarterly magazine, Coastlines Georgia by clicking here or visiting CoastalGaDNR.org/Coastlines.
---