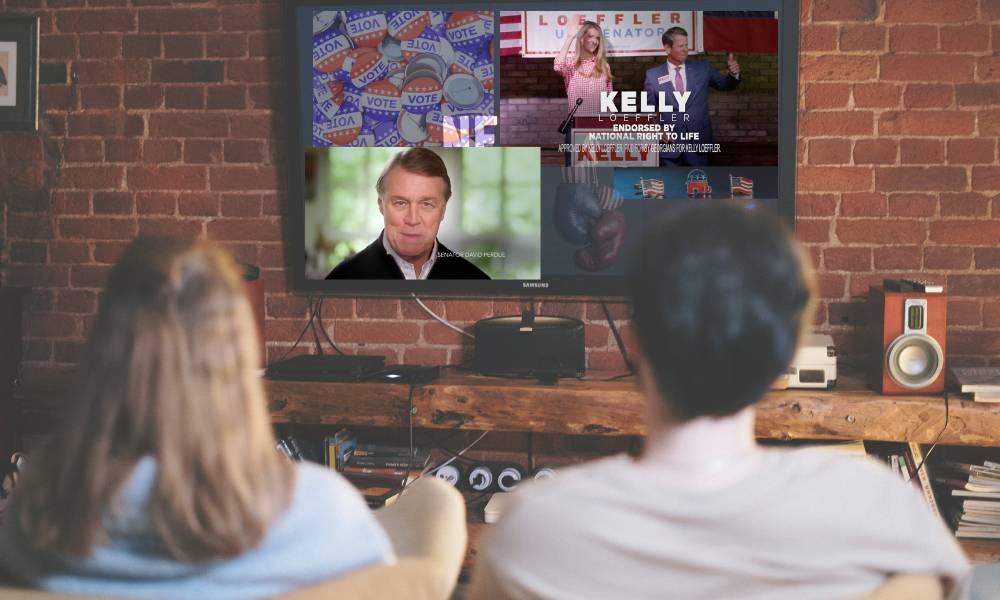 More political advertisements will be on Georgia televisions, whether you have traditional cable or streaming services.
Senators David Perdue and Kelly Loeffler both released new ads this week, with Perdue's highlighting his support for the military and Loeffler's touting support from Governor Brian Kemp, who appointed her in January. Both Loeffler and Perdue will appear on the ballot in November, though Perdue faces only two opponents – Libertarian Shane Hazel and Democrat Jon Ossoff. Loeffler, on the other hand, has 20 opponents in the jungle primary to fill the unexpired term of former Senator Johnny Isakson.
Perdue's new TV ad highlighting his support for military families focuses on what his campaign calls 'successful efforts to secure the largest pay raise in a decade for the women and men of the United States Armed Forces.'
"When military families needed a pay raise, Senator David Perdue fought to secure the biggest one in a decade," said Major General Arnold Punaro, USMC (ret). "From VA reform to securing new equipment for our military to complete its mission, Senator Perdue has proven himself time and again to be a tireless supporter of our Armed Forces. Georgia's servicemembers, veterans, and their families have no greater friend than Senator Perdue."
The new Loeffler ad, titled "Kemp," 'underscores Kelly's position as a political outsider, a conservative champion fighting against the radical left, and a vocal defender of free speech and expression in the face of the liberal media and cancel culture.'
The transcript of the ad is below:
KEMP: "I'm proud that Kelly Loeffler is our United States Senator. She's not a politician, not a political insider. She has also been willing to take on the liberal media, the Socialist Left and the radical cancel culture. She has earned my vote."
KELLY: "I'm not backing down. I will stand up for every single American who feels like they cannot speak out, like their voice is being taken away by these threats."
Perdue also released an ad 'contrasting his record of bipartisan leadership and real results with privileged liberal Jon Ossoff's inexperience and radical agenda.'
"The contrast in this race couldn't be more clear: David Perdue is the original outsider and Jon Ossoff is a radical, privileged liberal," said Perdue for Senate Campaign Manager Ben Fry. "Jon Ossoff has never created a single American job, and his radical socialist agenda would weaken America's economic recovery and burden Georgia families with higher taxes. Senator Perdue has a 40-year record as a job creator and a political outsider. Georgians know they can trust him to get results."
SCRIPT
A worldwide pandemic, a monumental effort to defeat it
Who can we trust?
A privileged, inexperienced Jon Ossoff with a dangerous socialist agenda who's never created a single American job?
Or David Perdue, a successful businessman with forty years of getting results?
Creating thousands of American jobs
David Perdue spent his life solving complex problems, we need his experience now.