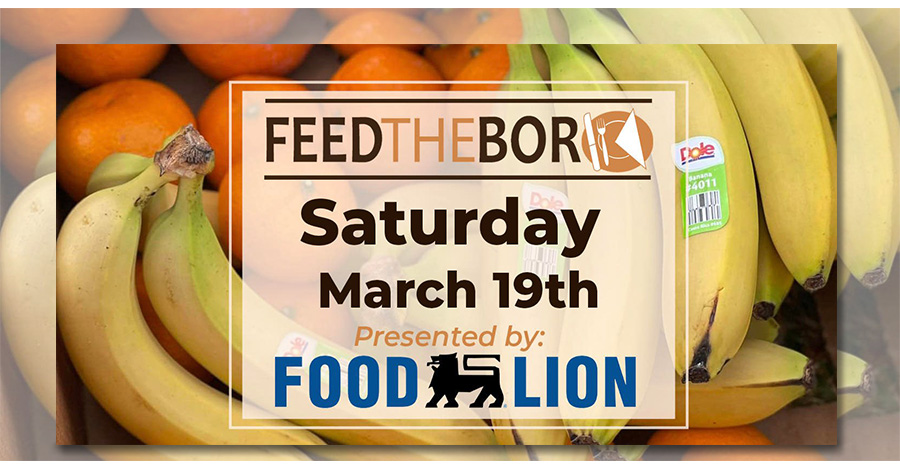 Feed the Boro's next Food Drop event will be held Saturday, March 19 at Statesboro High School, located at 10 Lester Road/10 Coach Lee Street. Food distribution begins at 8:00 a.m. and ends at 11:00 a.m. or when all food has been distributed.

Anyone in need of food is invited to come and get a week's supply of groceries. There are no financial requirements.
This event's presenting sponsor is Food Lion of Statesboro.
See more and sign up to volunteer on eventbrite.comand feedtheboro.com.
---
Have you wanted to help others in your community through Feed the Boro, but didn't know how? There are a few ways to help with Feed the Boro – donate, sponsor, and volunteer. You choose which works best for you.
Donate — Make a monetary donation of any amount by clicking the "donate now" buttons on Feed the Boro's website HERE or mail a check to Feed the Boro, P.O. Box 2736, Statesboro, Ga 30459.  The organization says each $5.00 donation will help feed a family of four for a week.
Sponsor — There are 5 levels of sponsors – Bronze($100), Silver($250), Gold($500), Platinum($1,000), and Presenting Sponsor($5,000). Visit Feed the Boro's website for more info on being a sponsor HERE.
Volunteer —  Volunteers help in the distribution lines, break down boxes, keep the area clean, and work in the parking area with the Statesboro Police Department to keep traffic flowing. Volunteers also assist with assuring paperwork is filled out prior to cars arriving in the distribution line.  Click HERE to sign up to be a volunteer at the next event.
Keep up with the latest and be informed of the next Feed the Boro event on their Facebook page HERE.
---
About Feed the Boro: 
Feed The Boro is a non-profit organization that coordinates feeding residents of Bulloch, Candler and Evans county. The organization was started 27 years ago in Bulloch County. The goal was to "reach people that may not have a warm Thanksgiving meal available on Thanksgiving day but just as important to give a moment of human kindness and sense of belonging and community to people that may be alone or experiencing a sense of depression during what is for others a time of family and celebration". When able, the organization holds Food Drop Events during other times of the year as well.