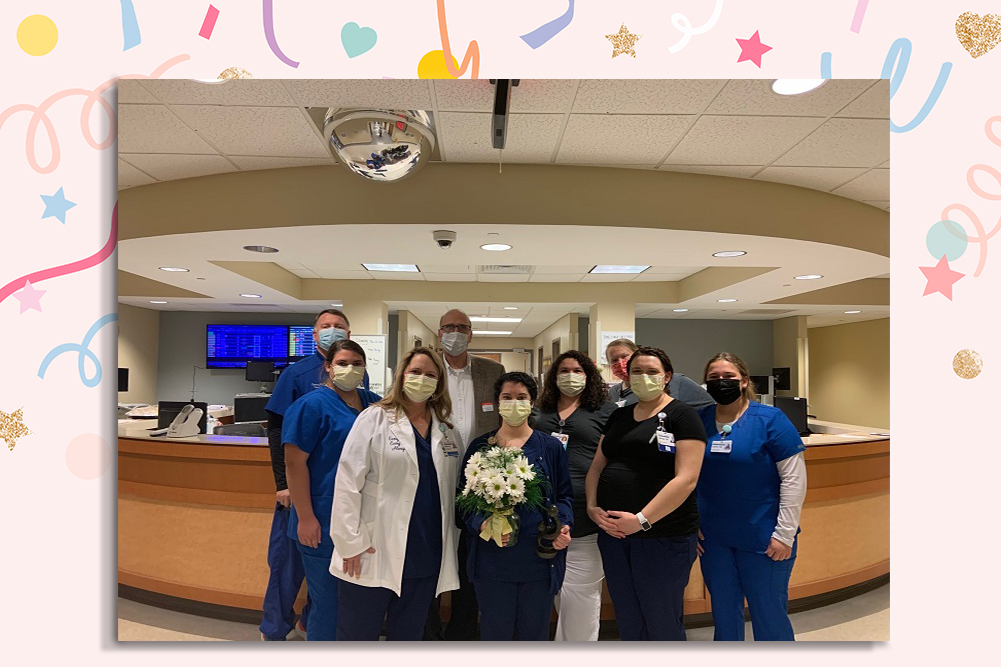 East Georgia Regional Medical Center recently honored Abby Owens, R.N., with the DAISY Award for Extraordinary Nurses:


A nurse at EGRMC for just over a year, Owens received multiple nominations for the award, including one from patient Jeff Butler, who chose to attend the award ceremony.
"From the very first moment that I arrived in my room Nurse Owens has shown her very special care and consideration for me and my wife," Owens wrote in his nomination. "I was apprehensive about being in the hospital and that is where Nurse Abby came in. Her smile, professionalism, cheeriness, and kindness let me know my stay was going to be ok. Nurse Abby is happy, enthusiastic, caring and has happy co-workers. She is thorough in her task, attentive in her charge and always helpful and positive toward me, the patient, and my wife. I might add that it is plain to see that her positive attitude has an infectious effect on those she encounters."
"Abby truly makes a difference in the lives of her patients," said Chief Nursing Officer Marie Burdett, MSN, R.N. "She is the type of nurse that exudes genuine kindness and compassion when caring for her patients. Abby keeps her patients and their family at the center of care, all while demonstrating excellent clinical and critical thinking skills."
Nurses may be nominated for the DAISY Award by patients, family members, and colleagues. The award recipient is chosen by a committee at EGRMC.
"We are proud to be among the hospital systems participating in The DAISY Award program," said Stephen Pennington, CEO of East Georgia Regional Medical Center. "Nurses are heroes every day. It's important that our nurses know their work is highly valued, and The DAISY Foundation provides another way for us to do that. "We are pleased to honor Abby with this award, and we thank her for the safe, compassionate care she gives to all of her patients at EGRMC."
The DAISY Foundation is a not-for-profit organization, established by the family of J. Patrick Barnes. Patrick died at the age of 33 in late 1999 from complications of idiopathic thrombocytopenic purpura, an auto-immune disease. DAISY is an acronym for Diseases Attacking the Immune System. The care Patrick and his family received from nurses while he was ill inspired this unique means of thanking nurses for making a profound difference in the lives of their patients and patient families.
To learn more about the DAISY Award, or to nominate a nurse for this prestigious award, visit www.eastgeorgiaregional.com/daisy-award-nominations.
---
EGRMC