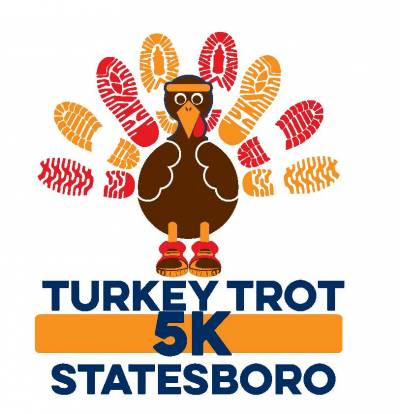 The Bulloch County Foundation for Public Education hosted its 12th Annual Statesboro 5K Turkey Trot on Saturday, November 23, in downtown Statesboro. The event was made possible in part this year by title sponsor, Bulloch Telephone Cooperative. Nearly 400 people registered and 275 participants ages 4 to 81 made it to the starting line on Saturday.


The event was open to all ages and fitness levels from 10-years-old and younger to 75-years-old and older. It was great to see the families with strollers, school faculty teams, and even furry friends all enjoy the race. They ran or walked the certified 5K course which winds through historic retail and residential neighborhoods and ends on a portion of the McTell Trail.
Congratulations to the overall top finisher Micah Darcangelo, age 17, with a time of 17:37.1. To see results for males and females in each of the 14 age categories, visit  the Cool Runnings website:
Overall Results  and Age Group Results.
The Statesboro 5K Turkey Trot is held annually on the Saturday before Thanksgiving, and is one of the Foundation's major fundraising events. All proceeds benefit public education in Bulloch County by funding Bulloch County Schools' Teacher of the Year program, innovation grants for classroom teachers, college scholarships for local REACH Georgia scholars, and the STAR Student/Teacher program for Bulloch County's public and private school students.
The Bulloch County Foundation for Public Education's Board of Trustees would like to thank all of the events sponsors and participants for their support which held them raise more than $7,800 for education initiatives in Bulloch County. Mark your calendars for the 2020 event which will be held on Saturday, November 21. Costumes and Thanksgiving-themed attire are always encouraged. Registration for the 2020 event will open online on Active.com in August 2020.