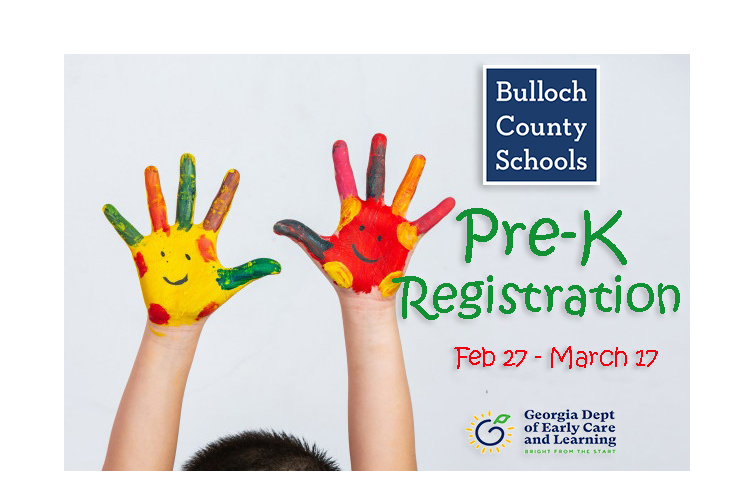 Bulloch County Schools' Pre-Kindergarten program has announced a new date and times for its lottery drawings: See new info here.

---
Registration for Pre-Kindergarten school year 2023-24 for the Bulloch County School District is February 27 – March 17. Lottery drawings will be held on March 31.
The school district will host a late night in-person registration on Monday, March 13, 4:30 pm – 7:00 pm, in the Professional Learning Lab at the school district's Central Office, 150 William's Road in Statesboro. Use the entrance marked with the letter E, located under the portico on the east side of the building.
If you wish for your child to be entered into the lottery drawings for available Pre-K spaces, complete the registration process by Friday, March 17. The lottery drawings for each of the 11 prekindergarten sites will be on Friday, March 31, 9:00 am – 5:00 pm.
Beginning February 27, registration will be available online HERE.
From Bulloch County Schools' website:
Bulloch County Schools is a Georgia Pre-Kindergarten partner. We host classes in each of our nine elementary schools and in two of our high schools. 
Overseen by Bright from the Start, Georgia's Department for Early Care and Learning, these lottery-funded educational programs help prepare children for Kindergarten using state-approved Pre-k Standards and curriculum.  
Across the district we have a total of 11 Pre-kindergarten sites, with a total of 20 classrooms, and space for 436 children. Our Pre-K classes are for the full school day. Classes follow the same Bulloch County Schools calendar as our K-12 classes.