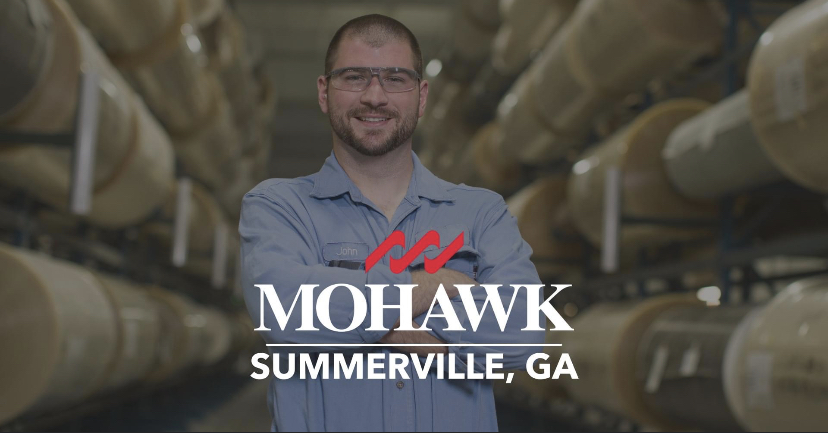 Mohawk in Summerville is hiring Material Handlers, Tumbler Operators and Waste Handlers. Attend the walk-in hiring event Thursday, June 2 from 10 am – 3 pm  to speak to recruiters (they're hiring on the spot)!

• 12-hour night shift available (7:00 p.m. – 7:00 a.m. / Rotating Shift)
• Starting Pay Range: $14-$19/hour
• No experience required
• Up to 80 Hours PTO (Paid Time Off)
• Health, Dental, Vision, 401K Match, Tuition Reimbursement, Great Training Program
• Apply in advance: https://bit.ly/3sWFLIF
• Location of Event: Mohawk Lyerly (5081 GA-114, Lyerly, GA 30730)
• Location of Jobs: Mohawk Summerville (106 John Bankston Drive, Summerville, GA 30747)
• Time of Event: 10:00 a.m. – 3:00 p.m.
• Date of Event: 6/2
• Do you have questions or just want more information? Text Mohawk recruiter, Charisse, at 706-913-6896. ✅
• Dress for the work environment! The candidate should wear long pants, a shirt with short or long sleeves, and tennis shoes or work boots. No jewelry or piercings and no hoodies or jackets with hoods are allowed (due to safety concerns). Long hair must be pulled up and off of the shoulders. Bring two forms of ID.
• If you're wondering what these jobs entail, check out Mohawk's YouTube Channel with informational videos: https://bit.ly/3Gj7run.
Mohawk Industries, Inc. is an Equal Opportunity Employer including disability/veteran, committed to an inclusive workplace and a proud Drugs Don't Work participant. EOE Minorities/Females/Protected Veterans/Disabled