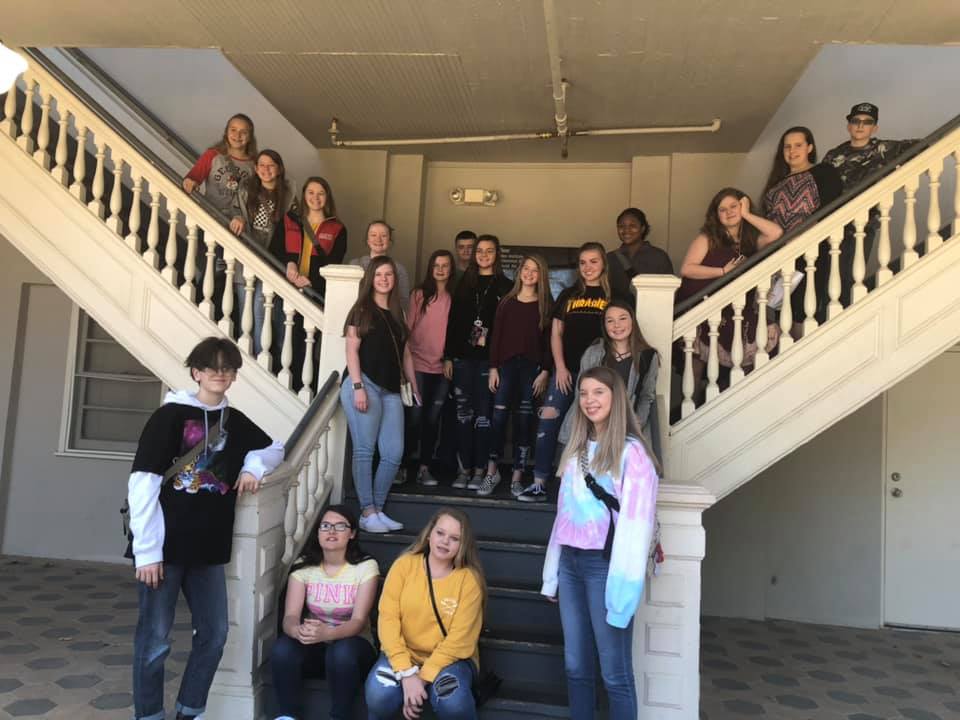 Chattooga County Schools had five teams and five individuals invited to compete at the Future Problem Solvers at State Bowl. From Lyerly, coached by Kanissa Martin, were John Patterson, Chloe Brown, Bailey Thomas, Izzy Wooten, Colton Hankins, Kaylin Bishop, Addyson Daniel, Libby Veatch, and Sophie Webb. From Menlo, coached by Amanda Williams, were Chloe Bass, Faith Yoder, Ansley Long, Pippa Key, Savannah Greene, Josslyn Maddux, Rosie Elrod, and Sarah Young. From Summerville Middle, coached by Christie Dooley, were Ashely Ellis, Jaycie Ledbetter, Billy Cesareo, Rylee Wells, Lucas Nixon, Cayden Parish, Landyn Cameron, Kha'Nija Avery, and Miles Mobley. From Chattooga was Sarah Beth Hampton.
These are the team results:
1st Action Plan: Lyerly: John Patterson, Chloe Brown, Bailey Thomas, and Izzy Wooten
3rd Action Plan: Lyerly: Colton Hankins, Kaylin Bishop, Addyson Daniel, Libby Veatch, and Sophie Webb
1st Skit Presentation: Menlo: Chloe Bass, Faith Yoder, Ansley Long, Pippa Key, Savannah Greene, Josslyn Maddux, Rosie Elrod, and Sarah Young
3rd Overall: Menlo: Savannah Greene, Joslynn Maddux, Rosie Elrod, and Sarah Young
These are the individual results:
3rd: Menlo: Pippa Key
2nd: CHS: Sarah Beth Hampton
Sarah Hampton, 10th grade, and Pippa Key, 7th grade at Menlo, qualified to compete at the International Conference. This is Sarah's second year achieving at this level. They will be randomly assigned to work with a team of individuals from around the world.
The Future Problem Solving Program International (FPSPI) is a nonprofit educational corporation that engages students in critical thinking and creative problem solving. Founded by creativity pioneer, Dr. E. Paul Torrance, FPSPI encourages students to develop a vision for the future. The GA FPSP sponsors four different academic competitions for students in grades 4 through 12 during the school year, with top achieving groups being advanced to the State Bowl.  State winners at each level are invited to compete at the International Conference in June. The Georgia Future Problem Solving Program is one of forty-five FPSP affiliate programs in the United States, Australia, Japan, France, New Zealand, and other countries. Annually, over 250,000 students participate in FPS activities.
Scenario Writing requires students to develop short stories related to one of five FPS topics for the year that could take place at least 20 years in the future. Scenario Performance originated in Australia to develop and sustain the oral tradition of storytelling. This is for students who enjoy telling stories and whose interests involve preserving this aspect of their cultural heritage. Rather than write their stories, they perform them.
The Global Issues Problem Solving component utilizes a six-step problem solving process. Organizers identify trending societal issues that are likely to affect us on a global scale twenty to thirty years in the future. They write a detailed scenario and present it to participants. Students then conduct research, apply the six steps and identify one solution they feel will best resolve the issue. From there they write out a detailed action plan, including an implementation plan and timeline. Those invited to the State Bowl must create a performance to "sell" their action plan using only household items to design props and prototypes. Some recent topics include Food Waste and Shortage, Stress, Educational Disparities, and Drones. This year's International Conference topic is de-extinction, which considers harvesting material from fossils to create clones of extinct species and the ethical and environmental impacts of doing so.
Chattooga County Schools began implementing the Global Issues Problem Solving component in 2015 at Menlo School. "I was not sure how much student interest there would be because it involves quite a bit of work, especially research, and time. However, I was overwhelmed with the positive response from students. Most of them loved having the opportunity to be on the cutting-edge of addressing issues that are likely to be here when they reach adulthood. They also enjoy having a voice in decisions and getting to collaborate creatively under pressure," FPS Coach Christie Dooley said. The Menlo students talked to their friends at Lyerly and Summerville Middle about the program, and the excitement built. The following year the program was offered at all three schools. "Last year I began coaching one student at CHS. So, the program is in all of our schools except Leroy Massey. Numerous students have expressed interest in continuing Global Issues into high school as an elective, but we haven't been able to work that out yet," Dooley said.
"My hope is that we can incorporate all four components of the program into each of our schools. Community Problem Solving would be an excellent addition to our high school curriculum,"said Dooley. Students would work as a team to identify a community issue, research it, develop and implement an improvement plan, and analyze the impact they were able to make. "Not only would this be impressive on a transcript or resume', but the skills they would develop in a project of this magnitude are also something employers look for in applicants of any field."
"I feel Global Issues is a perfect program for students in our community in grades 4-8 because it exposes them to events outside of our little county and connects them to the world at large. It is sometimes easy for bright, creative students to become complacent with their performance in school," said Dooley. This program is a constant reminder to them that they have to keep improving and remain agile thinkers because problems never stop coming. It also removes everything that can be an impediment to education at large—socioeconomics, politics, and standardized assessments with only one correct answer—and places all competitors on a level playing field with only their thoughts, creativity, and work ethic to race against a clock to make their future a better place.