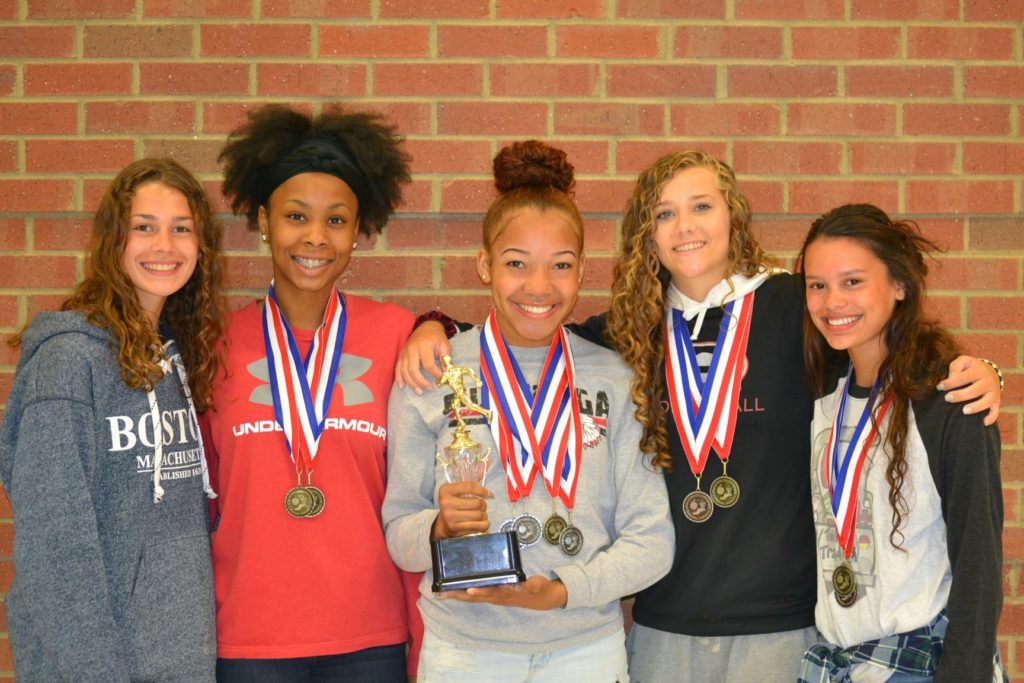 Chattooga's Track team competed at Region 7AA Track and Field Meet on Thursday, April 19th.
Chattooga's Kennedy Martin won region champ in Long jump.
Jamarious Mosteller won region champ in triple jump and 400m. Mosteller holds the #1 position in the state in 2A Triple Jump. Watch Mosteller's triple jump in the link below.
BA933B61-827C-4A07-9AAA-9EC6057896C6
The girls 4×400 won region champs with Ziyah Underwood, Faith Ann Foster, Kennedy Martin, and Taylor Melton. "The girls ran nine seconds faster yesterday than their best time," Coach Renee Beasley said.
The girls finished 2nd overall as a team. "This is a huge accomplishment with only six girls scoring points. The girls have improved so much and I am so proud of all of them," Beasley said.  Chattooga Girls finished 2nd overall as a team with a total of 94 points.
Results
Girls:
The top four finishers advance to Sectionals next Saturday April 28 at Gordon Central.
Ziyah Underwood 2nd High Jump, 2nd Long jump, and 2nd 400m
Kennedy Martin region champion in Long jump, 4th 100m, 4th 200m
Taylor Melton 6th triple jump, 3rd 100m
Faith Ann Foster 5th triple jump, 2nd 200m
Ellie Martin 6th high jump, 4th 100H, 5th 300H
Sonjaya Adams 6th 300H
Girls 4×100 Relay 5th (Ziyah, Taylor, Kennedy, Faith Ann)
4×400 Relay region champions with a time of 4:29 (Ziyah, Taylor, Kennedy, Faith Ann)
Boys:
Jamarious Mosteller region champion in triple jump, region champion in 400m, 2nd  Long jump
Devin Price 3rd high jump, 6th Triple Jump, 5th Long jump
Timyus Lawrence 4th in 110H, 7th 300H
Dalton Bray 5th Shot
EJ Lackey 5th in 100m
Boys 4×100 8th (Jamarious, Quenton Perry, Devin Price, Timyus Lawrence)
Boys 4×400 6th (Jamarious, Landon Williams, Jaih Underwood, Timyus Lawrence)
Chattooga Boys finished 4th overall as a team.
Ziyah Underwood, Kenedy Martin, Taylor Melton, Ellie Martin, Jamarious Mosteller, Devin Price, and Timyus Lawrence will all compete at Sectionals at Gordon Central High School next Saturday, April 28th.