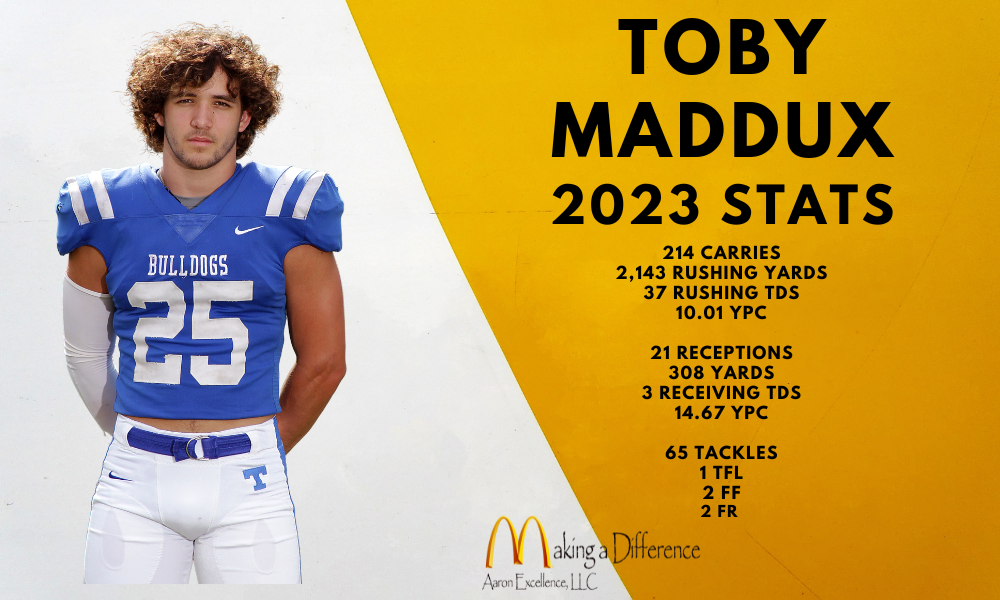 In an outstanding, perfect regular 10-0 Region Championship season for Trion Football, Toby Maddux's performance has been nothing short of exceptional. His impact on the field has been marked by remarkable stats that showcase his immense talent and contribution to the team's success.


Friday night in the Elite Eight game against Elbert County, Maddux left it all on the field. Playing banged up, he had 313 rushing yards and five touchdowns. In a daring move to secure the win in overtime, Trion had Maddux attempt a pass in the end zone during a two-point try, but unfortunately, the attempt resulted in an incomplete pass.
And with the incomplete pass came the end of an incredible season and Maddux's high school football career.
Maddux had a personal goal of rushing for 2,000 yards; he recorded 2,143 rushing yards from 214 carries at an impressive 10.01 yards per carry. Maddux has been a force in the ground game, scoring an outstanding 37 rushing touchdowns. Adding to his versatility, he's also made 21 receptions for 308 yards, averaging 14.67 yards per catch, with three receiving touchdowns.
Defensively, he's was solid with 65 tackles, one tackle for loss, two forced fumbles, and two fumble recoveries.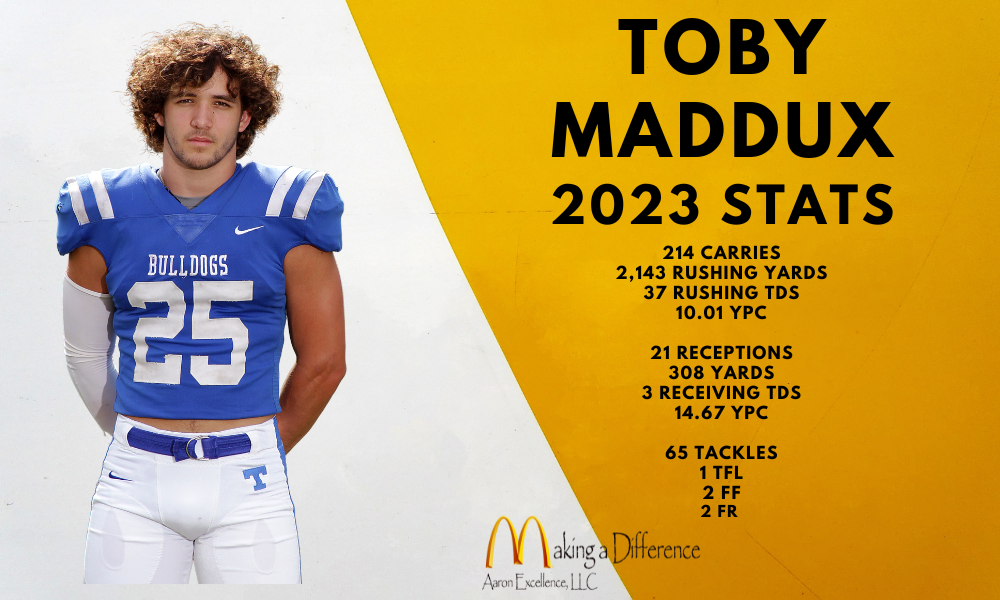 Toby Maddux's stellar performance this season has secured his spot in the Trion Football history books and on the Wall of Fame.
"Toby is an amazing kid. He was an absolute pleasure to coach. His determination and work ethic are incredible. He's a heck of a player. Again, I'm just glad I had the opportunity to coach him," Bulldog Head Coach Sean Patrick said.
Up next for Maddux, a two-time GHSA wrestling state champion, will be wrestling season where he is pre-season #1.
Toby Maddux Career Stats:
390 Carries
3,408 Rushing Yards
57 Rushing TDs
8.74 YPC
66 Receptions
902 Receiving Yards
4 Receiving TDs
13.67 YPC
1-2 Passing
33 Passing Yards
201 Tackles
2 Sacks
13 TFLs
8 INTs
3 FFs
3 FRs