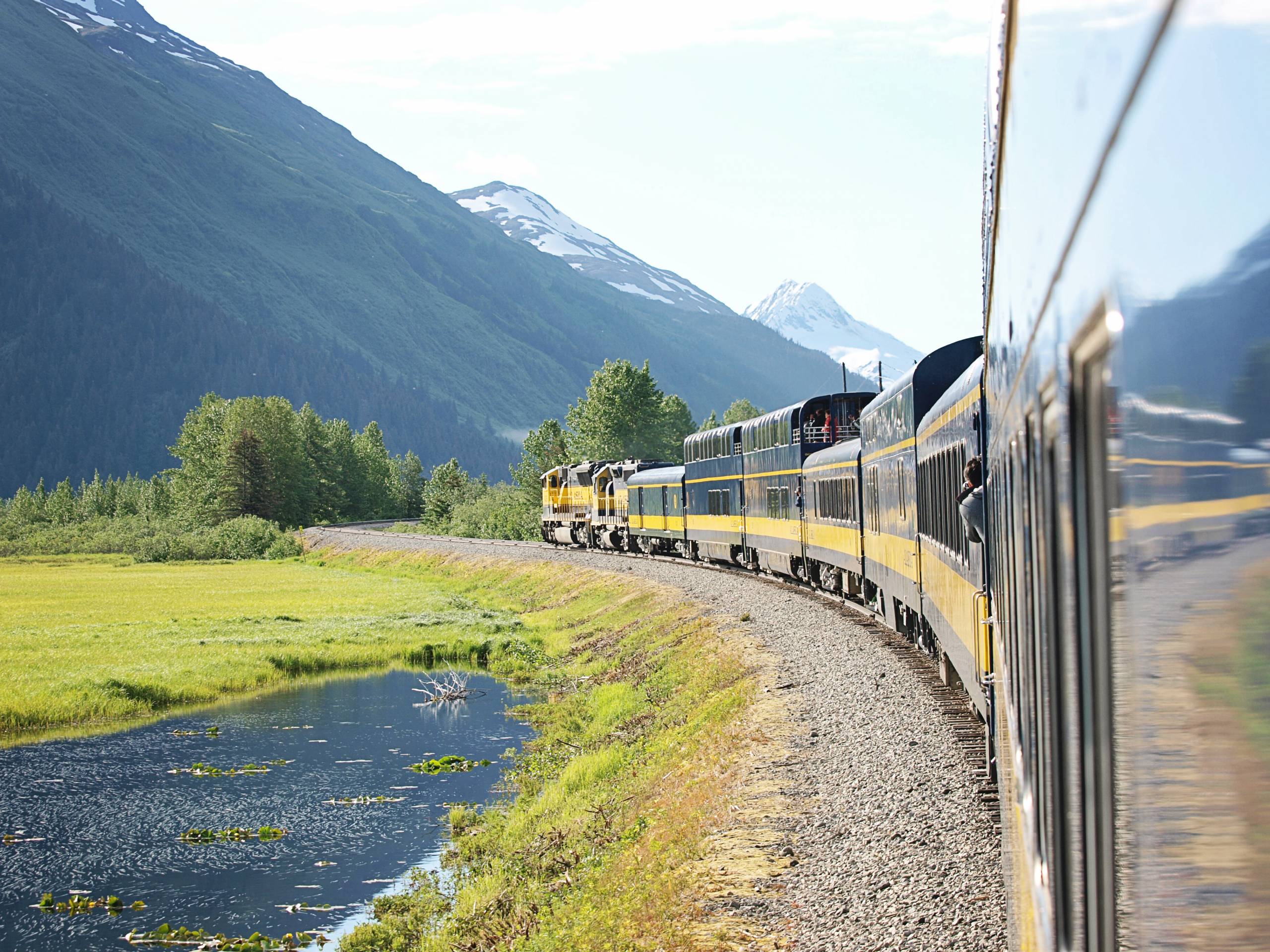 The following article is part of AllOnAdventure and reflects the views of only the author and not those of AllOnGeorgia. If you would like to submit your passion or adventure to be considered for publication, send an email to  submit@allonadventure.com.

---
Pack your suitcase and come away with me. Don't worry about your passport, I am giving you an all access pass, first class seating in a luxurious suite. Only the best for my royal readers. Let's embark on an epic adventure to a majestic place of great expanse.
You already hold the key that unlocks a treasure trove of thin places. May your eyes be illuminated to see light. A quest to satisfy your travelers soul. Hurry now!  Can you hear the whistle blowing and the hiss of the steam from the engine? Can you feel it rumble as you step upon the platform? Okay, so it probably is not a steam engine, but I had to get you in the zone. Now take my hand and we'll climb aboard the Alaska Railroad as she departs from Anchorage on her scenic journey through the Kenai Fjords, destination Seward. Where we will disembark the train for a short walk to the seaside village, walk the planks of the dock then we'll board the Coastal Explorer for a day cruise. Oh my stars you wont believe the unbridled oceanic views and sea life too! I remember before we left the dock I prayed, "Papa God, Show us whatcha got, open your treasure chest and let us see some cool stuff today!"  He heard and we were stunned by His answer.
The Alaska Railroad left the station and we were excited.  We had assigned seats but soon found out the environment was relaxed. We could tour other cars, go to the observation car or leisurely stroll to the the dining car. We were even able to go between cars to the small porch and take photos.  The sights were so visually stimulating that I had to pinch myself, a little. I'll let the images do the talking. They can explain the majesty better than my words. This is a bucket list Must!! It was not very expensive either.  You can book through their website www.alaskarailroad.com.  We arrive in Seward and depart for the harbor.
ALL ABOARD for a three hour cruise by sea on  The Coastal Explorer of Seward. This part of my trip is where Alaska opened her treasure chest and lavished us with her gems.  The ship hoists the blue Peter and sets sail for Kenai Fjords around Resurrection Bay. We travel along a rugged coastline, the weather was like a cool fall day in Georgia, (for those who don't, know that's mid to high 60 degrees). I remember someone mentioning that the orcas where spotted coming up the coast and should be very close to Seward within a few days.  "Pass the paper bag!" I am am thrilled at the prospect of seeing orcas.  Fast forward to me, standing  on the stern, scanning the oceans for wildlife and someone yells, "It's the Orcas!" Oh, the level of excitement.  It was a pod complete with the full family tree. Unbelievable! After watching them frolic and play, our Captain followed a bald eagle flying past with a large fish in his talons. He landed on a rock and began to feast. As we motored forward ,we saw a mother sea otter floating with her pup laying across her belly.  Wow! Just over to the right we set our sight on a huge colony of  Stellar sea lions. The young girl inside of me was squealing with glee. Soon we were set forth skirting the rocky coastline.
Sailing past Bear Glacier. High upon a cliff we watched a mountain goat and her triplets scamper from rock to rock. At this point, I felt like I was at Sea World.  Just as the goats disappear, I gaze starboard just in time to see a mother humpback whale and her calf. Say what???  The mother even did a small breech. Being the great wildlife photographer that I am… I look over the top of my camera in sheer awe.  Totally missing the shot. It all seems like a dream, but trust me the pictures will prove the story. My sister and I were the last to depart from the boat. The captain commented that he hadn't had a day with so many diverse wildlife encounters. We told him that during this trip, we have had people tell us  "its very rare" to see ALL that we've been blessed to see. I told him that I prayed for an open treasure chest and God delivered. He decided we were his good luck charms. First sighting of the orcas return, humpback (mom&babe)…
…Eagle flying with lunch, mom otter with babe on her tummy, tons of sea lions, and so much more!!! Eeeek! What a blessed day! Always be sure to send one up, ask for favor and believe that he hears. I hope you see his glory as you view the photos from that day. This is the first installment of Exploration Alaska.