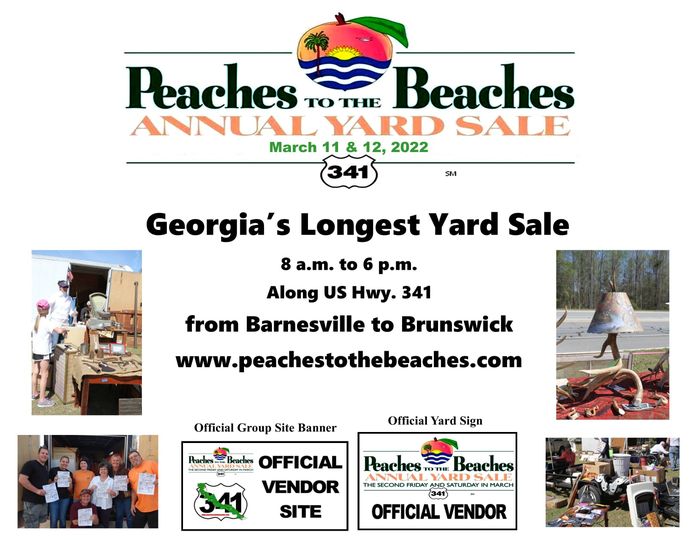 The 18th Annual Peaches to the Beaches Yard Sale is being held March 11 – 12, 2022, 8:00 a.m. – 6:00 p.m. The annual event is organized and promoted by Explore Hwy 341, Inc., and will continue come rain or shine.

Known as Georgia's Longest Yard Sale, Peaches to the Beaches' route runs along Hwy 341 and includes the following counties:  Glynn (Brunswick); Wayne (Jesup & Odum); Appling (Baxley); Jeff Davis (Hazlehurst); Telfair (Lumber City & McRae-Helena); Dodge (Chauncy & Eastman); Pulaski (Hawkinsville); Houston (Perry); Peach (Ft. Valley); Crawford (Roberta); Monroe (Culloden); Lamar (Barnesville).
Official vendors (multi-organizational group sites and official individual sites) will be selling a variety of items from antiques, locally crafted items, food and the traditional yard sale fare.  Official Site Banners and Official Vendor Yard Signs mark vendor sites. Explore Hwy 341, Inc. encourages shoppers to "only shop at the "Official" vendor/sites as these vendors support this worthwhile event and make it possible for EH341 to continue promoting and organizing this event each year." A vendor map will not be available this year, look for the banners and signs marking sites.
For more information about Peaches to the Beaches, visit EH341 online HERE.