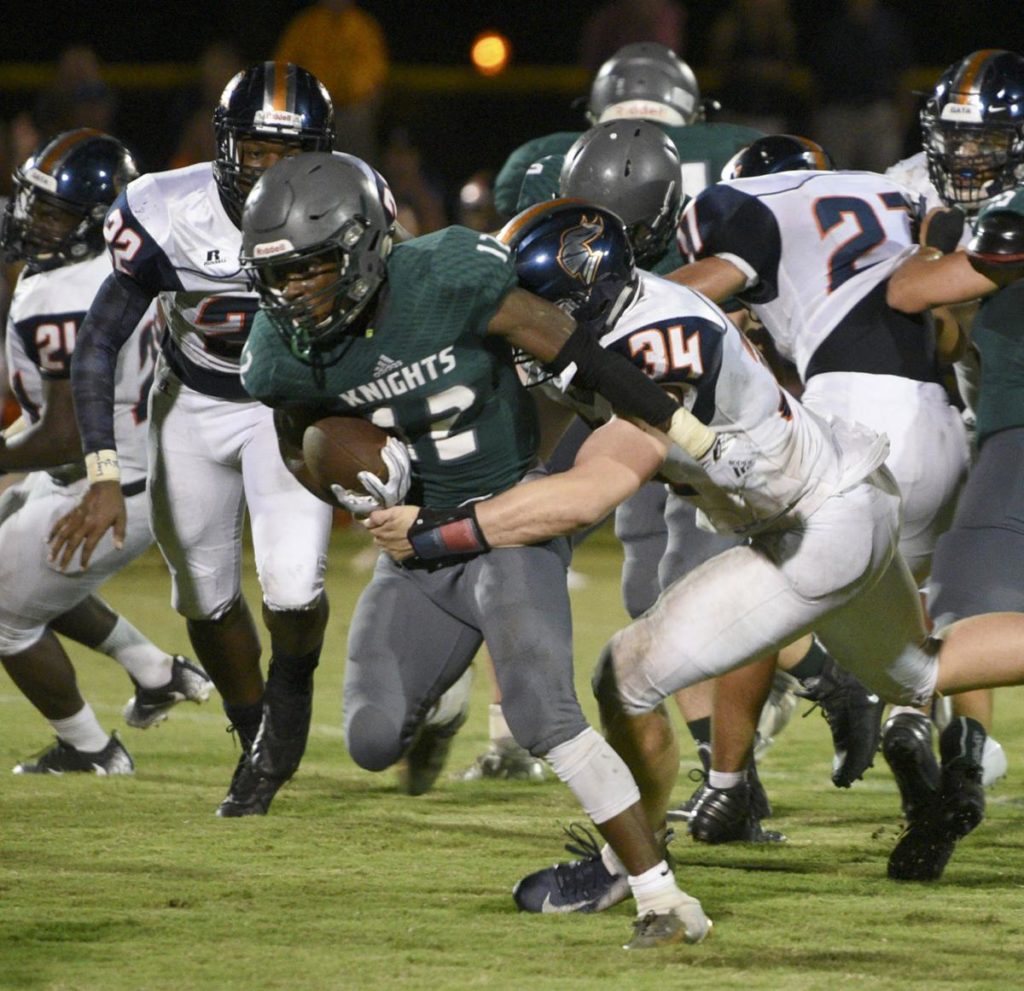 The loss to Valwood in last season's state semifinals served as motivation for everyone on the Frederica Academy football team as they got ready for what they hope is a run this season to the Class AAA state title in the Georgia Independent School Association.
But no player on the Frederica team has used that game to motivate himself more than senior running back Isaiah Jackson.
He says now he couldn't get that loss to the Valiants, who went on to win the state crown, out of his mind during the offseason no matter how hard he tried.
"I thought about it a lot, and about what I could do better so that it doesn't happen again," Jackson said earlier this week in a sit-down interview.
What the 5-foot-8, 165-pound running back has done since that disappointing game last November is step up his commitment level. That started in the weight room during the offseason and has continued on the practice field going back to summer workouts.
"I needed to start lifting weights more seriously and take practice more seriously," Jackson says. "I got tossed around in that game (against Valwood) last year. I'll admit it. I wasn't prepared for the physicality of that game, but I am now."
That, he says, is primarily because of his improved work habits in the weight room over the last year. He has added some 10 pounds to his frame and would like to add at least five more in the days ahead. Jackson also says he is stronger and has better endurance in games.
"I wasn't really pushing myself and didn't really understand the importance of it," Jackson said. "This offseason, I didn't take reps off, and I ran harder in conditioning, too. It's shown in games. I see a big difference. I'm stronger and faster, and I'm breaking more tackles. I'd say I'm way stronger than previous years."
And the Knights are certainly benefiting from the personal gains that Jackson made in the weight room during the lead-up to this season.
With Frederica currently owning a 4-2 overall record and a 1-0 mark in GISA Region 2-AAA, Jackson is the featured runner in the strong ground attack for an explosive offense.
Thus far this season, Jackson has carried 83 times for 692 yards and 11 touchdowns, scoring at least once in each of the team's six games to date. He also has five catches for 48 yards and has returned five kickoffs for 280 yards and three touchdowns including a 95-yard return for a score in the season opener against Charlton County.
Frederica coach Brandon Derrick agreed his improved conditioning has led to Jackson being more productive on the field, too.
"He's always had great vision, but he's got a good burst too," Derrick said. "He's got a good burst and gets downhill quicker now, and he's running with more authority."
Derrick said Jackson has become a more complete back and is helping the Knights even when he isn't actually carrying or catching the ball.
"He just much more physical, not only running the ball but also blocking," the coach said. "He probably has 10 pancake blocks from the running back position. He also has gotten a lot better at being good without the ball, carrying out fakes and those type things, and that helps us a whole lot also."
Jackson has been a steady presence in the Frederica backfield the last three years. Last fall, he ran 91 times for 891 yards and 10 touchdowns while adding 16 catches for 211 yards and two touchdowns. He also returned a kick for a score last year.
As a sophomore, he carried 76 times for 597 yards and five touchdowns while having nine receptions for 222 yards and a score.
Jackson spent his freshman season mostly as a scout-team running back after not playing football until his eighth-grade year. He did see limited action on Friday nights, rushing for 107 yards in the 2015 season.
Last year, Frederica star athlete Jashawn Sheffield was hampered by injuries, and this season, it has been the team's other big gun, quarterback Jaylin Simpson, who missed several games with a serious toe injury.
But Jackson, who is often overshadowed by the two Auburn commits, has been the one constant in the starting backfield, essentially serving as the heart and soul of the Frederica offense.
"He's been there the last two years. He pushes the buttons," Derrick said.
Jackson said he hasn't minded taking a back seat to Sheffield and Simpson when it comes to getting ink in the media. He is good friends with both players who have pushed him to excel also, he says.
"I've tried to work hard and get on that level, too," Jackson said. "I'm not jealous of them at all. I wish them the best, and they've motivated me as well, especially in the weight room."
And Jackson has certainly benefited from the game planning that opposing teams do in an attempt to slow down Simpson and Sheffield, says his coach.
"You focus on the two guys going to Auburn, and you can get beat by 12 and 2," said Derrick, referring to the jersey numbers for Jackson and also Denver Anthony, a slotback and quarterback for the Knights.
Frederica is set to host Westfield School Friday on St. Simons Island. It will be the annual Homecoming game for the Knights who will have three more games after the one this Friday to finish out the regular-season schedule.
Then, it will be on to the postseason for the Knights who are on a mission to claim the state crown.
Jackson sees it as a chance at redemption.
"I worked hard this offseason so I could help the team and so we could actually win the state championship this year. I feel like we can, too," he says.
Following the season, Jackson will move on to basketball along with several other players from the football team.
Basketball used to be his best sport, Jackson says, until he found out he was better running with a football than dribbling the roundball.
"It switched," said Jackson, who idolizes Golden State superstar Steph Curry.
Jackson will graduate from Frederica in the spring and plans to go to college somewhere next fall, though his future school has not yet been determined.
Derrick thinks Jackson will have a chance to play football in college as schools such as Mercer, Mount Union and Valdosta State have expressed an interest in him.
"I think there will be more interest in him as time goes on," Derrick said.
Playing college football intrigues Jackson, but with or without football in his future, he wants to go somewhere that he can also chase his dream to one day become a pharmaceutical scientist.
"I like science. That's my favorite subject," he said. "I want to help sick people and cure diseases. I feel like everyone deserves a chance to live regardless of what kind of disease they might have."