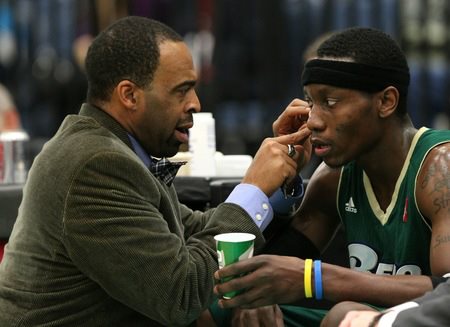 Michael Douglas is a big fan of Glynn County sports.

After all, Brunswick is his home and it is where he played high school football which ultimately led him to his profession as an athletic trainer.
Douglas, a graduate of Brunswick High, also believes strongly in giving back to his profession which is why he jumped on the opportunity to return home last week to work an athletic training camp at his old high school for aspiring trainers.
"This is the best thing I can do and that's get others ready to go out and do what I've done and hopefully beyond," Douglas said. "Our profession is better served that way."
Douglas, a 1997 graduate of Morehouse College in Atlanta, certainly brought a lot of experience and know-how to the local camp which included 20 high-school aged pupils who will help the athletic trainers at the local high schools this coming athletic season.
His goal for the week was to pique the kids' interest enough in athletic training that they might be encouraged to take it seriously and consider it as a future occupation.
"We're just trying to give them a good overview," he said. "I love doing this to hopefully bring some awareness to the athletic training profession.
"There are still only 50,000 certified trainers in the country, so obviously there are some major gaps out there. To have a trainer at each of the local high schools, that's really tremendous.
"Hopefully, the kids are gonna want to see more and get the necessary experience."
Douglas played football for the Brunswick Pirates under John Willis and went on to play at Morehouse where suffered a serious shoulder injury during his sophomore season.
It was during his rehabilitation under the guidance of the school's athletic trainer that he realized the importance of that person's role to the overall success of the football team.
He became interested in athletic training at that point, so much so that he changed his major and ended up getting a degree in kinesiology and sport health from the Atlanta school.
He went on to get a master's degree in sport injury management from Life University in Marietta.
Douglas is currently working on his doctorate in athletic training at Temple University and expects to finish that degree next May.
"It's one of the best schools in the country," he said. "I'll be Dr. Douglas this time next year."
The soon-to-be-doc has combined his passion for sports and athletic training to embark on quite the professional journey which has taken him to work in the NFL, NBA and WNBA.
He did a four-year internship with the NFL's Buffalo Bills before working full-time in basketball where he has spent most of his time as a trainer.
Douglas has worked in the NBA D-League for both the Reno Bighorns and Albuquerque Thunderbirds.
His WNBA experience includes serving as director of sports medicine and head athletic trainer with the Atlanta Dream.
His NBA experience includes stints as a trainer for the Memphis Grizzlies, Houston Rockets and Golden State Warriors.
Douglas said he fell in love with basketball early in his athletic training career and called the time he spent in Golden State, which included the 2015 championship season, the highlight of his time in professional basketball.
"It was unbelievable," he said, looking back. "I've told this story a bunch. I remember a practice where no one missed a shot that season. It was just magical."
He said his time with the Warriors was also a valuable experience for him in terms of professional development though he already had an impressive resume before going to work for the Golden State organization.
"That's where I experience the most growth as an athletic trainer," he noted. "The experience I had with them opened up my eyes to a lot of things I'm doing now. The Golden State organization is just top-notch. They had a completely different way of thinking about things which was very beneficial to me."
Douglas doesn't take for granted the time he spent around the best players in the world in the NBA. He loved his time watching the action from the bench under the bright lights of the big arenas in cities such as Los Angeles, New York and Chicago.
"Even TV doesn't do it justice," he said. "To see it in person, it's just unbelievable."
But, Douglas said he never lost sight of the fact he had a job to do which is why he was sitting on an NBA bench in the first place.
"Being a part of the team, it's fun, especially when you win" he said. "But also, my job depended on it. That was really No. 1."
And his job played a part in a team's overall success. It was the responsibility of the athletic training team to keep players like Steph Curry and Draymond Green healthy and able to play at their highest level on the floor over the course of a long and gruelingg NBA season.
"Your biggest sense of pride comes from actually having no one injured," Douglas said. "When I started with the Atlanta Dream, they had been to the WBNA Finals, but they hadn't won because they didn't have enough bodies to play all the games.
"The first year, we had two injured who missed games. The second year, we had one and the third year we had none. I took a lot of pride in that."
Douglas wouldn't name any names for privacy reasons, but he said he also had some successful experiences saving the careers of players by helping them through significant injuries that had them sidelined for significant lengths of time and could have spelled the end of their playing days.
"I also had a few projects that teams gave me," he said. "They just took a chance that we might could get somebody healthy enough to play a role on the team."
Douglas isn't currently sitting on anyone's bench in pro basketball. He is back at Morehouse where he is teaching and helping develop the curriculum for the future of the athletic training program there that Douglas hopes will grow in stature and prestige.
He is happy in his current role, especially since he is passing on his knowledge and on-the-job experience to future athletic trainers as they prepare to go into the field.
He knows the importance of the job and what it can mean to any athletic team which is why he relishes the opportunity to help educate others who will hopefully take the occupation to the next level in the years to come.
But Douglas admits he still has the itch to work with a team and says there is a good chance he does at least one more stint somewhere in the NBA before he quits taping ankles and stretching hamstrings in the locker room and settling for work in academics before retiring for good.
"I might be in the hunt again next summer," he said. "I might have to make another run at it before too long."
Douglas said his dream job is working for the New York Knicks. His face lights up when he thinks about Madison Square Garden and the Big Apple.
"I'm a Knicks fan," he said. "Being the guy for the Knicks, that has been a dream."