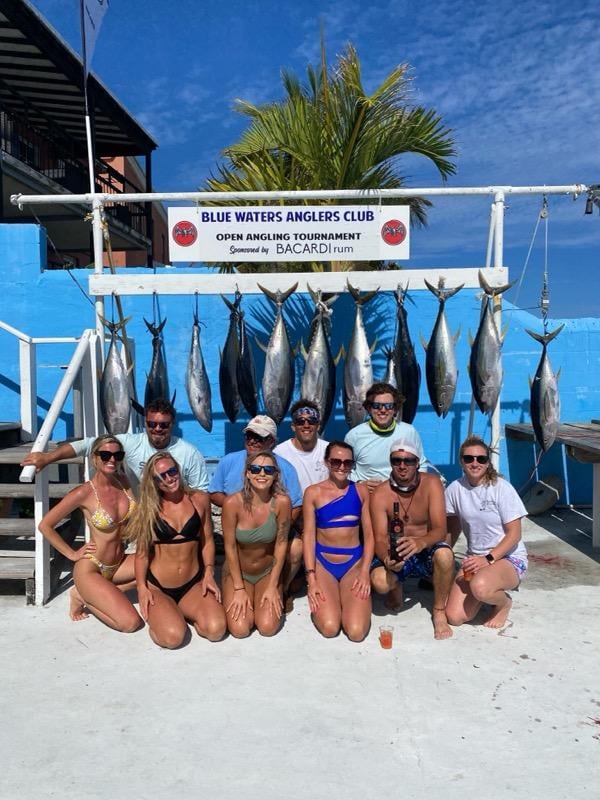 The following article is part of AllOnAdventure and reflects the views of only the author and not those of AllOnGeorgia. If you would like to submit your passion or adventure to be considered for publication, send an email to  submit@allonadventure.com.

---
The statement "if you can find a way to make a living doing what you love, you will never work a day in your life" is true. On my most recent trip to Bermuda we combined a little work with a lot of fun. Four days of exploring the island, shooting product photos while cliff/bridge jumping, snorkeling, shopping, boating, dining, sightseeing and of course my favorite, fishing. This article has something for everyone. I've included photos and videos from all of our activities, it's not just amazing fishing.
Bermuda is millionaires and billionaires. There is no income tax, little to no crime, no snakes, no mosquitoes and beautiful weather. Before you start making plans to relocate, you should know Bermuda is extremely expensive, even more so than Hawaii. Pretty much everything people consume comes in by plane or ship. There's no fresh water on the island. Rainwater is collected from the roofs. Sales tax is 20%. A beer in the restaurant is around $10, a 2 Liter Coke at the grocery store $8, and a 12$ bottle of wine in the US costs around $30 in Bermuda. With that being said, Bermuda is worth every penny. Breathtaking views, pristine water, and the people are amazing.
Bermuda is definitely a bucket list destination for blue water fishing. Their wahoo and yellowfin runs are world class. The island is a photographers paradise and the waters surrounding the island are like heaven on earth for serious anglers.
This was my third visit to the British territory, but my first time fishing in the Blue Waters Anglers Club Tournament sponsored by Bacardi. Bermuda is the international headquarters of Bacardi Limited, one of the world's largest family-owned private spirits companies. The Bacardi Tournament, now hosted by the Blue Water Anglers Club, is a competition between local captains. There's no half million dollar prize, this is all about the bragging rights for the year.
I was fishing with my good friend and captain of the Hakuna Matata, Scott Barnes. Scott's family has lived on Bermuda for four generations. They are one of the main seafood distributors on the island. There's a good chance if you eat seafood in a restaurant it was caught by them. Between Scott and his father Mike, they have a combined 59 years of experience fishing Bermuda waters. I was pretty confident in our chances of winning, then I threw Scott and the crew of the Hakuna Matata a huge curveball. Four of my good friends had agreed to come to Bermuda to model for the product photos. We shot content for Blue Otter sunglasses, a great Georgia Co. Located in Watkinsville, and several swimwear/athletic apparel lines and multiple saltwater fishing products. Ashley, Tara, Monica and Kait all decided they wanted to fish the tournament as well. We went from being one of the most experienced teams to one of the least experienced teams. Lines in the water at 8am, out at 3pm and it was nonstop action all day. I can honestly say I couldn't be more proud of the crew of the Hakuna Matata and the girls. They absolutely killed it. Landing 18 Yellowfin and countless other fish, we won top female angler, male angler, and 2nd overall in our class honors. If you plan on traveling to Bermuda, a trip on the Hakuna Matata has to be on your list.
Admiralty House Park has Cliff jumping, secluded caves and a large cove for swimming. Admission is free.
There are multiple catamaran cruises to choose from, such as sunset snorkeling, scuba diving tours and more. There is no spearfishing within a mile of the shore and marine life is abundant. Huge hogfish, parrot fish and Jacks are everywhere.
Uninhabited islands with views I can't begin to describe, and white sand beaches with crystal clear water.
The shopping in Hamilton the capital ranges from Louis Vuitton, Rolex, Gucci, all of your big brands, to quaint boutiques and tourist shops. All are in easy walking distance.
You can rent a car or a scooter, but I wouldn't recommend it. The taxi drivers are great, and I have a problem driving on the wrong side of the road.
Whether it's a family vacation, honeymoon, anniversary, or annual guys fishing trip, you can't go wrong in Bermuda. When I say family trip it's important to remember there are no amusement parks in Bermuda. It's a great place to take your kids for quality time. Bermuda also has several golf courses that are open to the public, however we did not visit any of them.
If you have any questions on accommodations, activities or international travel, don't hesitate to ask questions in the comments below. If you found this article helpful and interesting, please hit the like button, but more importantly, share the post. It only takes a second to like and share and it cost you zero $. Thanks for your support, and again I hope you enjoyed my latest adventure.
Safe Travels, Jason
Check out the video from our trip and see how amazing this place really is.