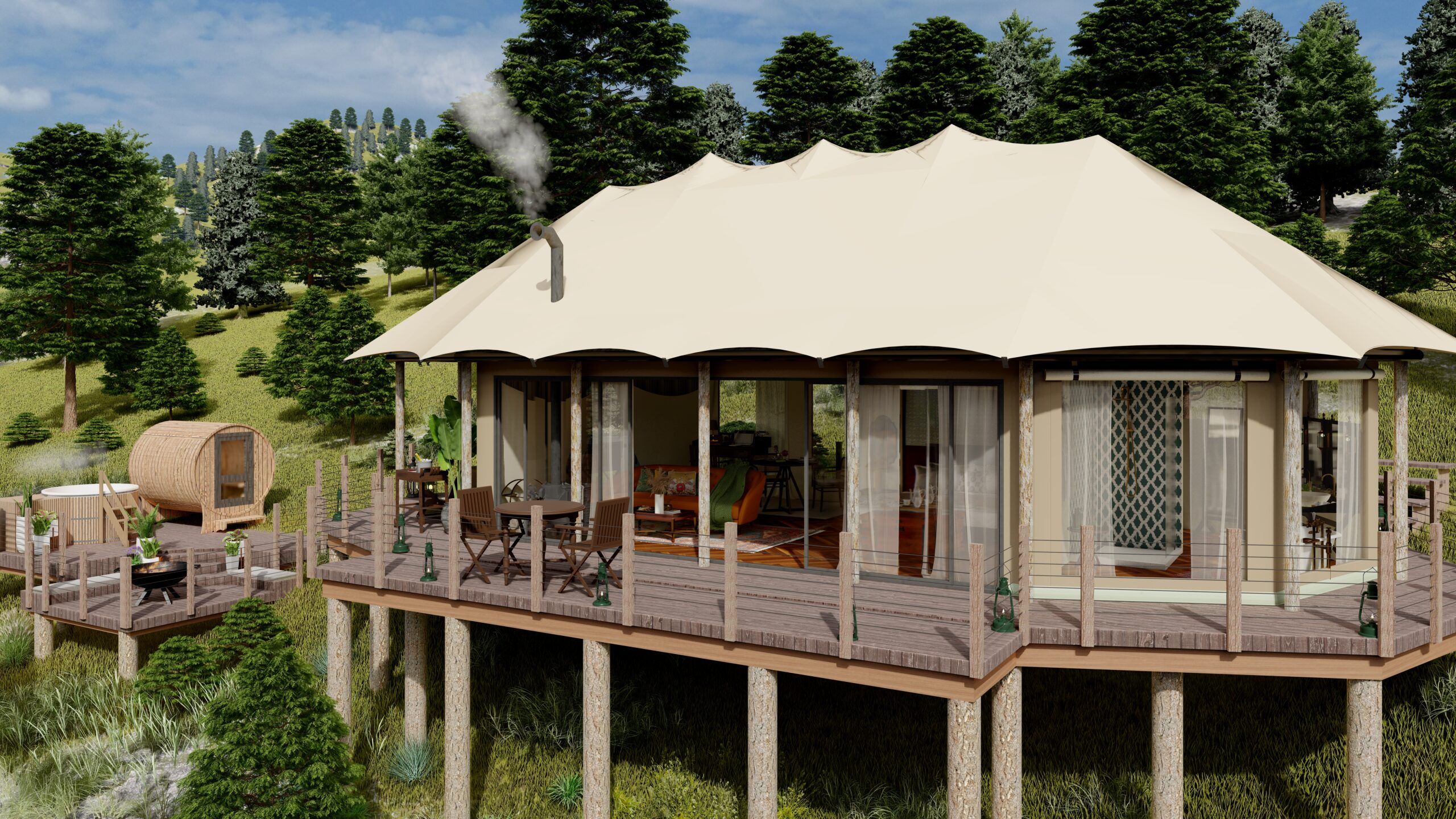 New boutique getaway developer Satori@20 has opened reservations for Dunya Camp, a stunning boutique glamping site in North Georgia surrounded by mountain vistas.

Dunya Camp is the brainchild of luxury hotel designer and longtime Georgia resident Sangeetha Ramkumar and her husband Saeid Kazerooni.
Dunya Camp currently has six secluded safari-style tents nestled in 42 acres of Chattooga County, GA, with plans to expand. Each tent features a Deco-Campaign aesthetic, reflecting the spirit of the global traveler. The name is derived from the word Dunya that refers to our earthly world being unscripted and without boundaries in many eastern languages. It can also mean closer. Combined, the meanings define what Dunya Camp is all about.
"Our vision is to bring you closer to nature, closer to the ones you love, and closer to yourself," says Sangeetha – a mantra that's even on their website.
Dunya Camp was conceived when Sangeetha went on a camping trip with Saeid in the summer of 2020. Together, they discovered what psychologists and scientists have discovered:  nature makes us happy. Studies show evidence that nature has physical and psychological wellbeing benefits, to paraphrase a psychologist who studies connectedness to nature. (Source: American Psychological Association, Lisa Nisbet, PhD)
The tranquil environment of the natural world and the luxurious tent create space for discovery and relaxation. Unique options like ritual baths for the soaking tubs, S'mores, tarot & astrology readings can be added to any stay. Additionally, the Dunya Team's event expertise can be requested for customized birthdays, anniversaries or other events. 
Guests will be invited to participate in regular programming that will make use of the tranquil environment, like yoga, tea time, community brunch and hikes.
Sangeetha's architectural and hospitality design background, combined with Saeid's creativity and construction know-how, allowed them to have complete control over the project. Together, they supervised the construction and painstakingly selected everything, down to the fine linens, the hand designed custom ceiling print and the luxurious upholstery on the vintage furniture. The tents have both A.C. & heat, making them a cozy haven in the cold Georgia winters and a place to cool off in the warm summers.
 All the tents are erected, and decor is now being put into place for the grand opening. A pictorial of the process is on Dunya Camp's Facebook page: facebook.com/dunyacamp
The Tents
      (6) 600 sq ft, 2-room temperature-controlled tents

      Each hilltop tent includes a kitchenette, a soaking tub, a four-poster king size bed

      Fine linens atop a 100% sustainable and hydrophobic luxury mattress 

      Ensuite bathrooms

      Outdoor showers

      Wood-burning fireplaces

      Expansive private terraces facing the spectacular mountain sunset 

      Upgrade options include a sauna, gourmet meal hampers, yoga, massages, tarot & astrology readings
Location
Summerville, Georgia is a hidden gem Blue Ridge town known for textiles, the railroad and Southern hospitality. Only about 1.5 hrs from Atlanta, 40 min from Rome and 55 min from Chattanooga, the area was called "Enchanted Land" by the Cherokee.
Luckily, the proximity to the mountains and the Cherokee National Forest makes it a perfect respite from the sweltering temps of Atlanta and Chattanooga.
The nearby state park may have a funny name, but it's ranked as one of the most beautiful in Georgia – James H. "Sloppy" Floyd State Park. Surrounded by the Chattahoochee National Forest, its hiking trails and above ground cave with a waterfall make for great exploring. There's also a lake stocked with fish for fishing and pedal boats for renting.
A mountain bike park called Jarrod's place also just opened in Summerville, and art fans know about the magical Paradise Gardens tour, the home of folk artist Howard Finster.
Booking
With just a little social media advertising in Fall of 2022, they've already amassed a list of a thousand potential guests.
Reservations just opened up on DunyaCamp.com starting for the end of March 2023.
About Satori@20
Satori@20 is a boutique hospitality consulting and developing company, focused on creating the ultimate guest experience. Founded by Sangeetha Ramkumar in 2019, the company is dedicated to infusing "awe" in every guest stay. Sangeetha holds a Bachelors of Science in Architecture (B.S. Arch) as well as an MBA from Georgia Tech University. She's spent two decades designing commercial and hospitality spaces. Dunya Camp is her first independent project.