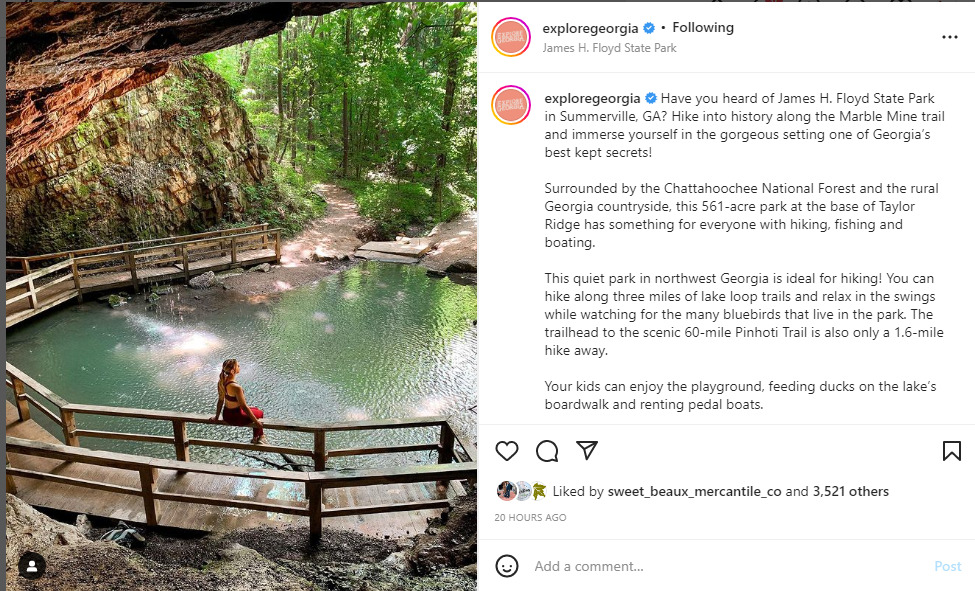 Chattooga County's very own, James H. Floyd State Park, or as locals simply call it Sloppy Floyd, was featured on Explore Georgia's official Instagram page.

The page has 281,000 followers.
From ExploreGeorgia's Instagram post: "Have you heard of James H. Floyd State Park in Summerville, GA? Hike into history along the Marble Mine trail and immerse yourself in the gorgeous setting one of Georgia's best kept secrets!
Surrounded by the Chattahoochee National Forest and the rural Georgia countryside, this 561-acre park at the base of Taylor Ridge has something for everyone with hiking, fishing and boating.
This quiet park in northwest Georgia is ideal for hiking! You can hike along three miles of lake loop trails and relax in the swings while watching for the many bluebirds that live in the park. The trailhead to the scenic 60-mile Pinhoti Trail is also only a 1.6-mile hike away.
Your kids can enjoy the playground, feeding ducks on the lake's boardwalk and renting pedal boats.
If you would like to spend the night, there is a small campground and four cottages are nestled on tree-covered hillsides."
James H. (Sloppy) Floyd State Park is located at 2800 Sloppy Floyd Lake Road in Summerville. 
Read more about JAMES H. (SLOPPY) FLOYD STATE PARK: