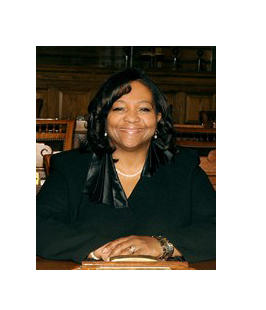 Today, Senator Donzella James (D – Atlanta) held a private event for her constituents and colleagues at the Capitol to honor and celebrate the life and legacy of Rosa Parks.

Sen. James presented The Rosa Project, a foundation formed to raise funds in honor of Rosa Parks, with a resolution recognizing the many accomplishments of Rosa Parks as she is a fundamental contribution to Black History in the United States.
Parks, also known as "the mother of the Civil Rights Movement", received national recognition, including the NAACP's 1979 Spingarn Medal, the Presidential Medal of Freedom, the Congressional Gold Medal, and a posthumous statue in the United States Capitol's National Statuary Hall, to name a few. Upon her death in 2005, she was the first woman to lie in honor in the Capitol Rotunda and, on what would have been her 100th birthday, the U.S. Postal Service released a commemorative stamp honoring the civil rights icon.
More recently, Federal lawmakers have embarked on an initiative to make Rosa Park's birthday, a nationally celebrated holiday. When the bill is passed, Mrs. Parks will be the first woman in American History to have a national recognized federal holiday.
The Rosa Project is in the process of relocating Rosa Park's residential home to a location to be determined in Georgia's 35th Senate District, which Senator James proudly represents. Once the house is settled, it will operate as a museum while surrounding acreage will serve as an event center/ amphitheater/auditorium where visitors can participate in The Rosa Parks Experience.
For more information regarding the Rosa Project, please visit www.TheRosaProject.com
---
legis.ga.gov