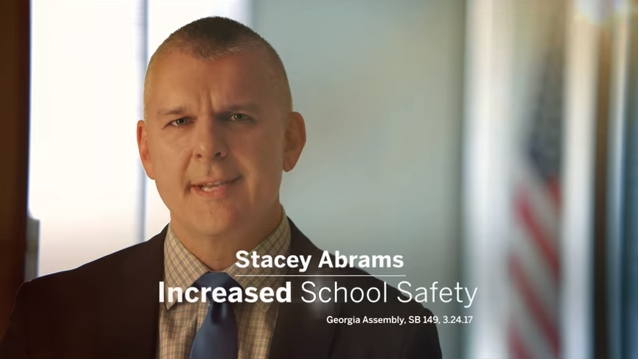 Democratic candidate for Governor Stacey Abrams has released her newest television ad "Tough and Smart" in which she focuses on community safety while supporters of hers debunk claims from her Republican opponent.

The ad features a police officer, a mom, and a teacher "calling out" Brian Kemp for his comments on Abrams in recent weeks, as his campaign and the Georgia Republican Party – have sharply criticized Abrams for her votes on crime while serving in the legislature. The claims in television ads by the Georgia Republican Party have been determined to be false.
The Abrams ad released Wednesday cites a vote in which Abrams voted to improve school safety in 2017 and another in 2015 at which time she voted to 'toughen' sex trafficking laws, a point of contention that has made headlines across the state over the last two weeks. The reference to the 2015 vote is to Senate Bill 8, sponsored by Senator Renee Unterman, which imposed an unrelated annual tax on strip clubs while expanding asset forfeiture privileges for those convicted of sex trafficking. It also increased the mandatory minimum sentencing for offenders.
The reference to the 2017 vote is SB 149, which imposed additional training requirements for school resources officers. (Read it here)
The ad also criticizes Kemp's infamous 'shotgun ad with Jake' before the featured voices praise Abrams' safety plan as 'tough and smart.' It closes with Abrams saying she'll "always tell the truth."
From the press release sent by the Abrams team:
Abrams has a proven track record of bipartisan work to improve community safety, from voting to increase safety measures for children to toughening sex trafficking laws. She also voted for anti-gang legislation that Brian Kemp himself called the strongest in the nation.   
Last week, Abrams released her comprehensive, common-sense community safety plan, which also focused on community-oriented policing, violence prevention, and safe schools.
Brian Kemp has recently made desperate attempts to persuade voters –  especially women –  that he is not the same candidate he was in the primary election, when he pointed a gun at a teenager and expressed support for putting guns in classrooms. According to the most recent AJC poll, Abrams leads Kemp by 11 percentage points among women. Unfortunately for Kemp, voters aren't going to be fooled.
Watch the video below:
SCRIPT:
[AUDIO]
FORMER OFFICER: As a former police officer.
MOM: As a mom
TEACHER: As a teacher
FORMER OFFICER: We're calling Brian Kemp out…for his false and misleading attacks against Stacey Abrams.
TEACHER: Stacey Abrams has increased safety measures in schools and toughened penalties for sex trafficking.
MOM: Brian Kemp pointed a gun at a teenager…in his own ad.
TEACHER: Who does that?
FORMER OFFICER: I've seen Stacey Abrams at work…especially on her Community Safety Plan that goes after drug peddlers and predators.
TEACHER: It's tough
MOM: and smart.
STACEY ABRAMS: As governor, I will always tell you the truth. Together, we can make Georgia safe and prosperous…for all.